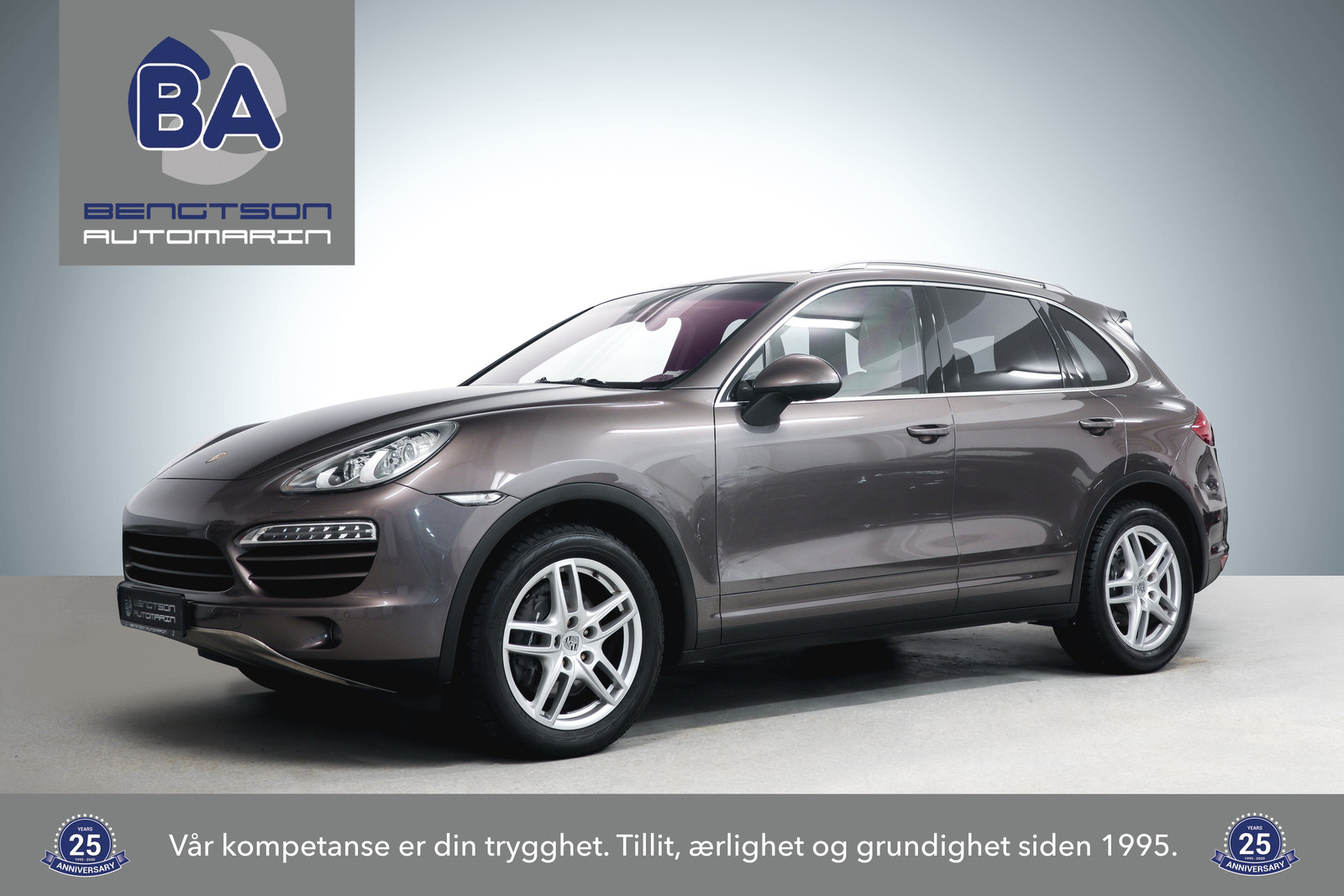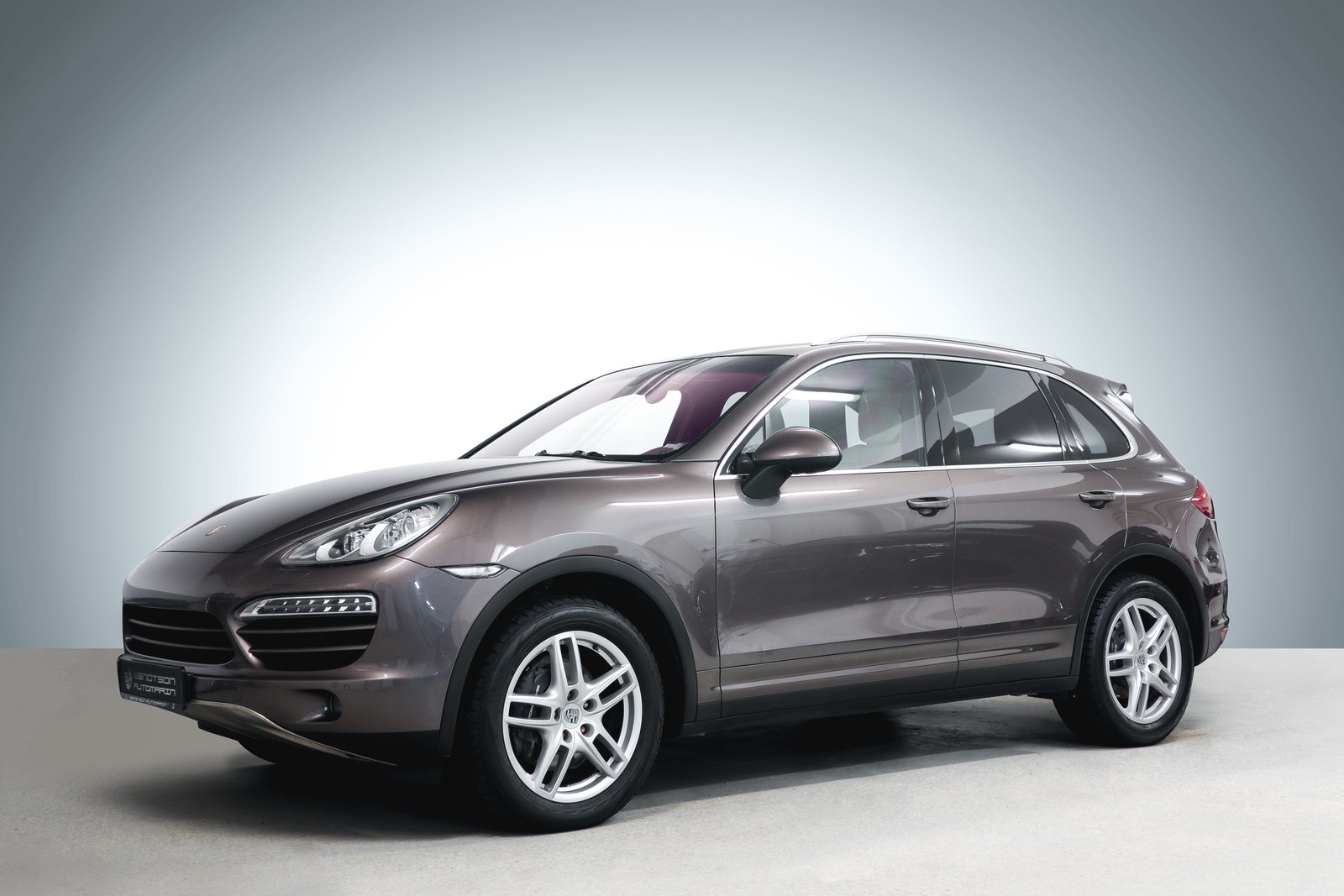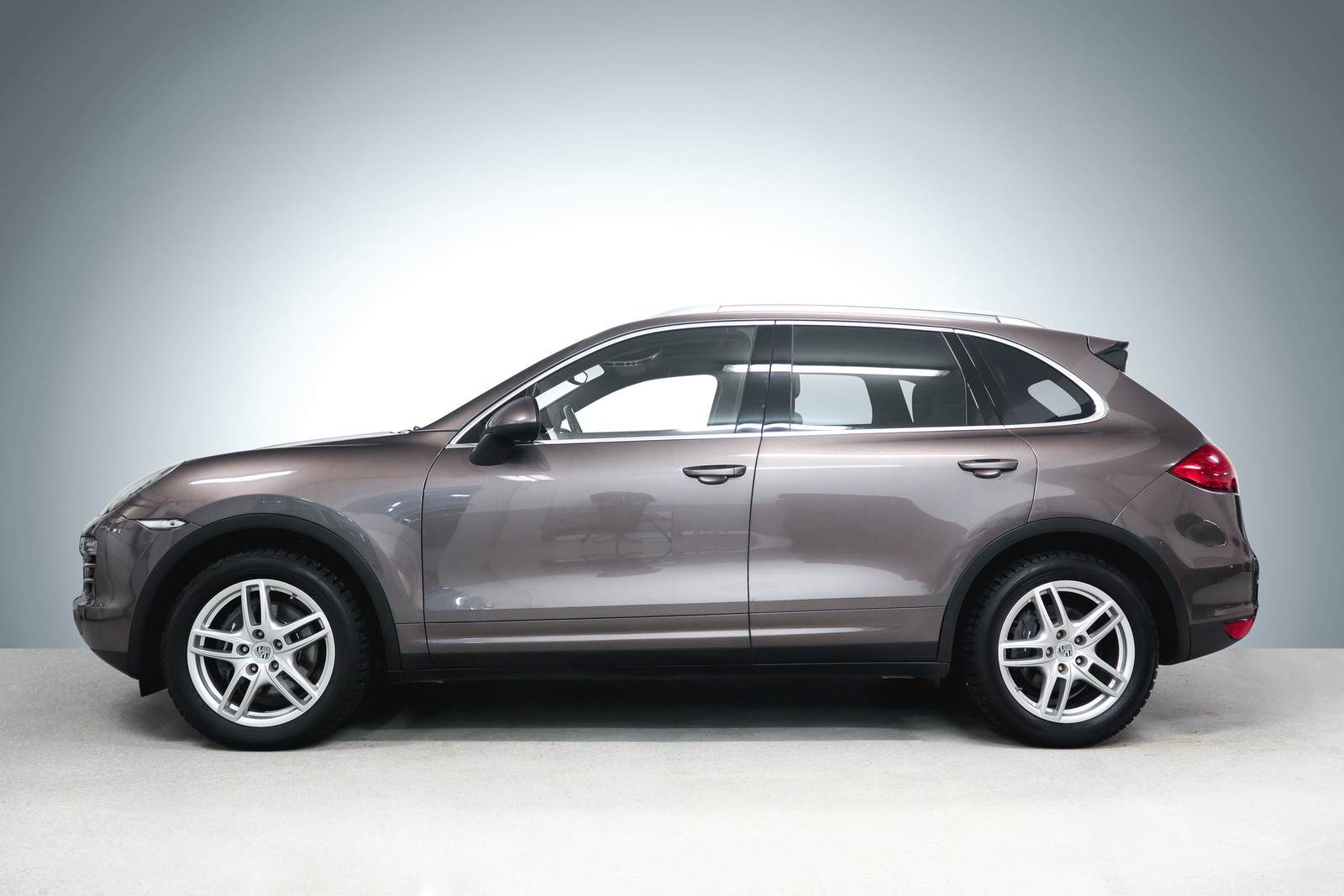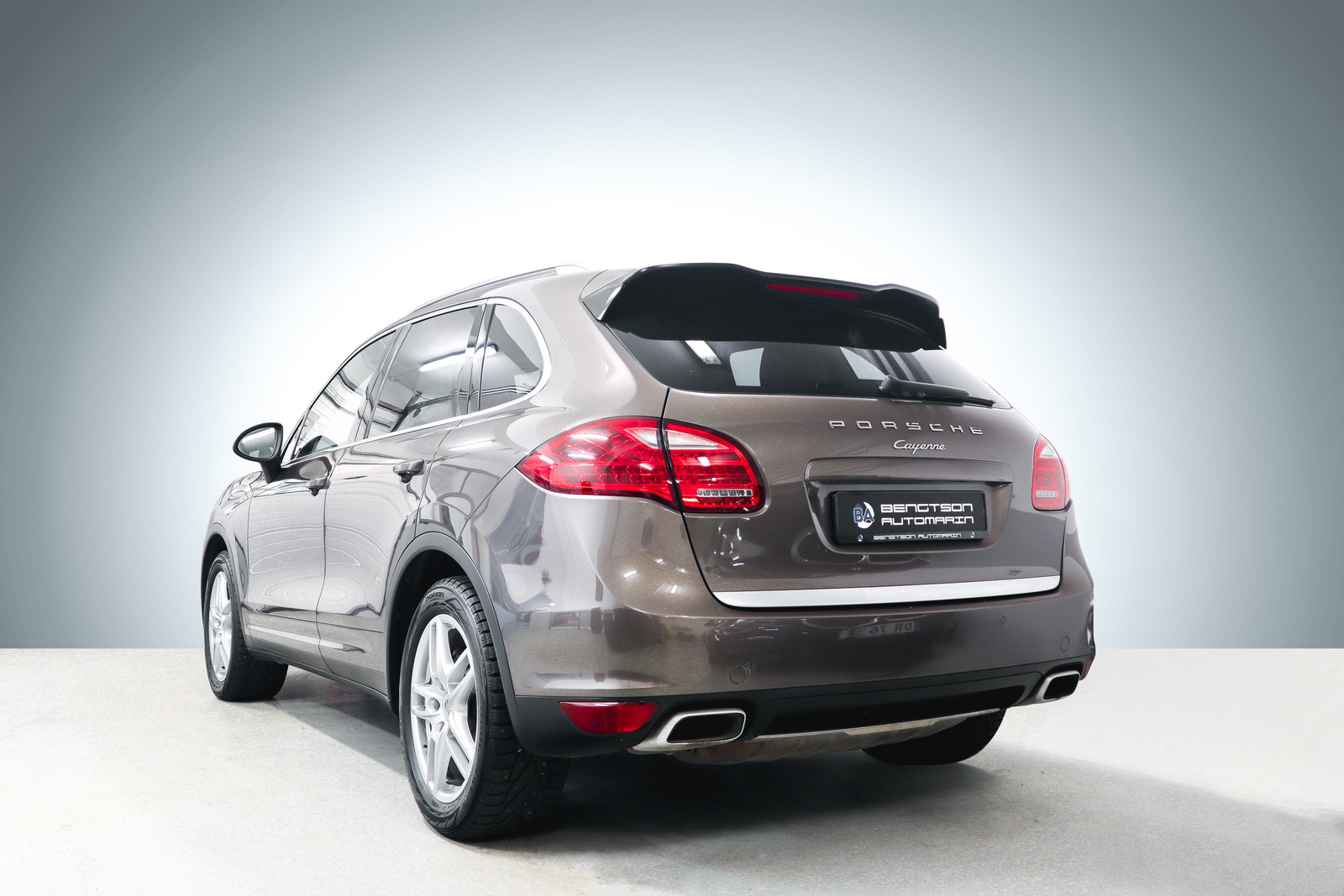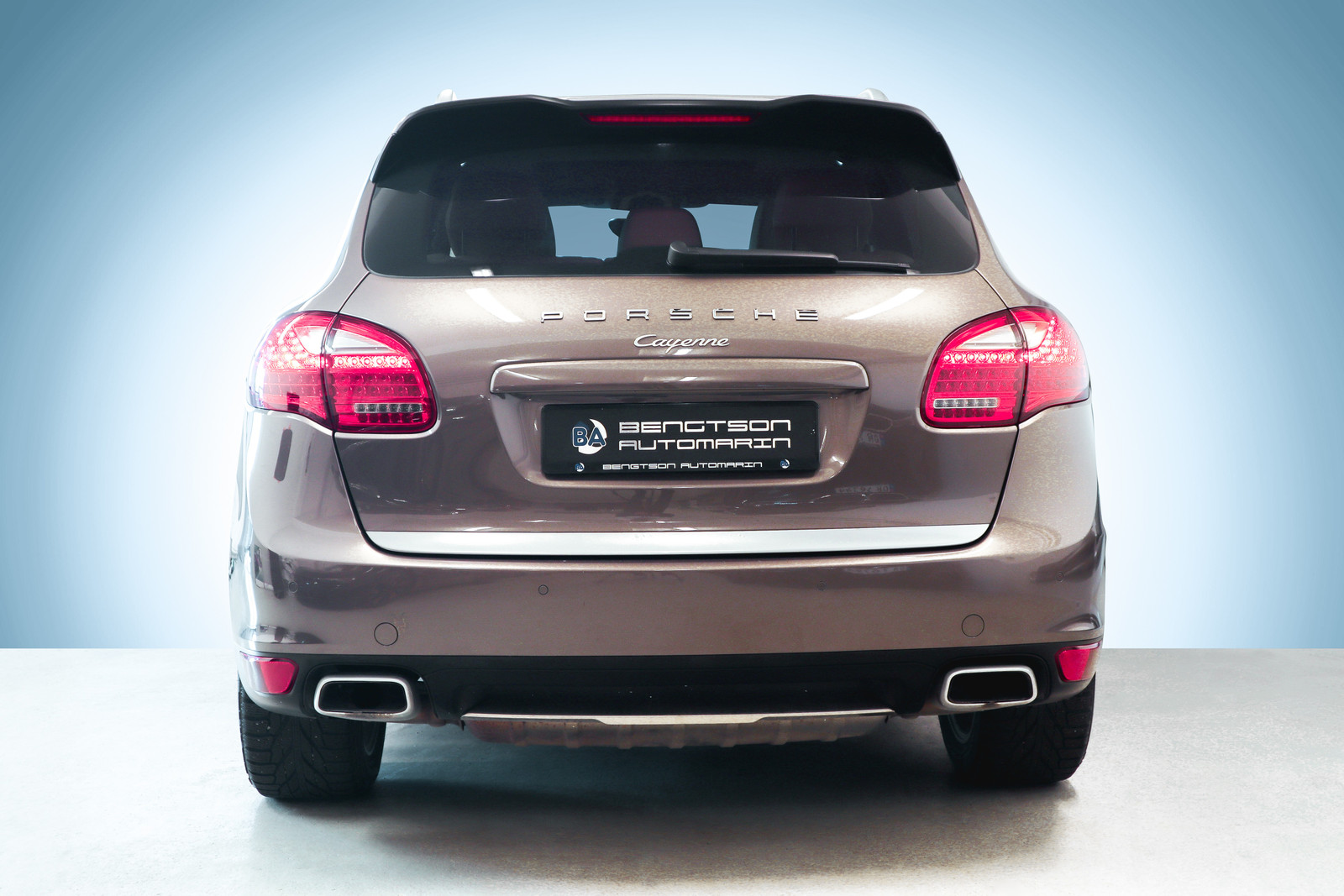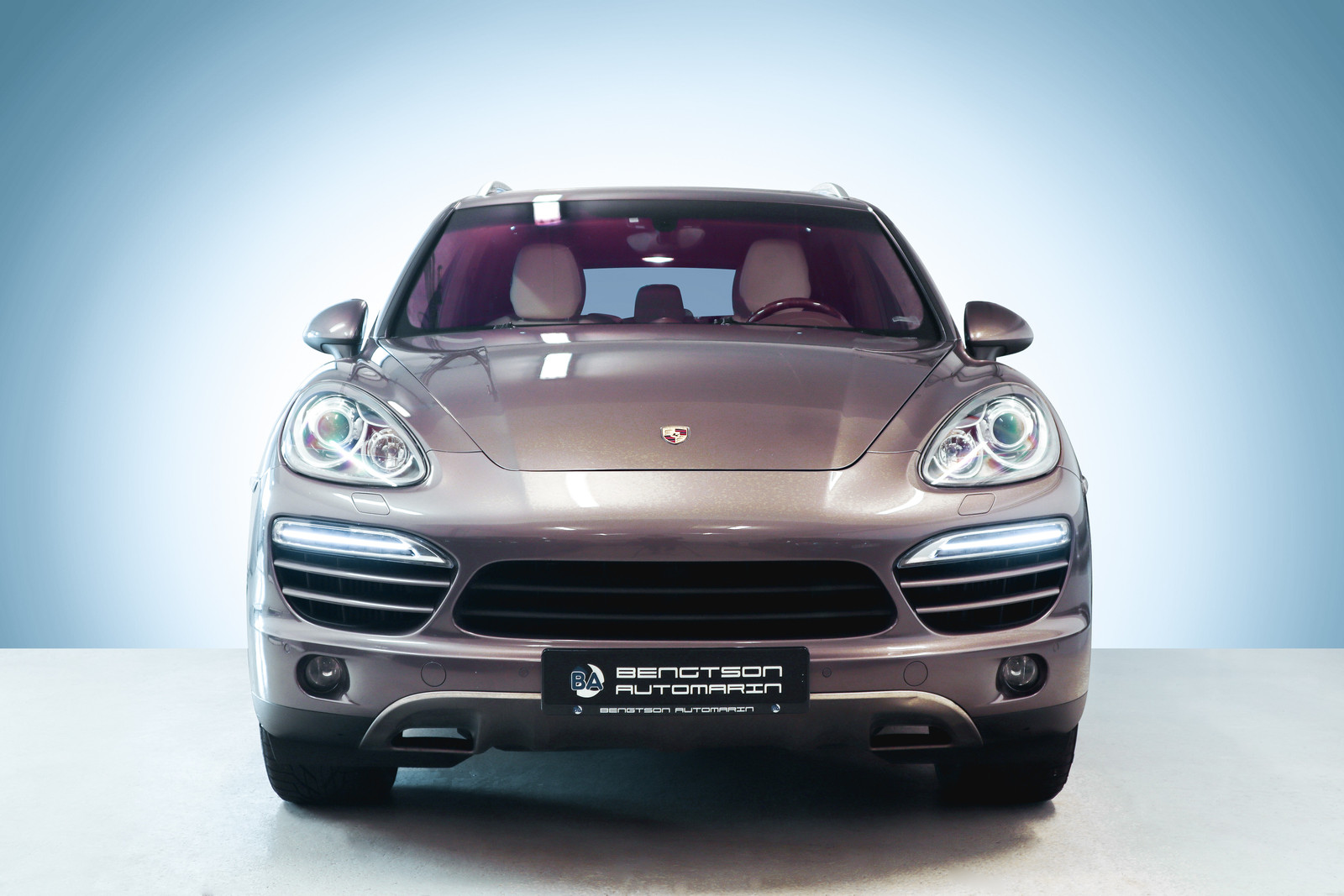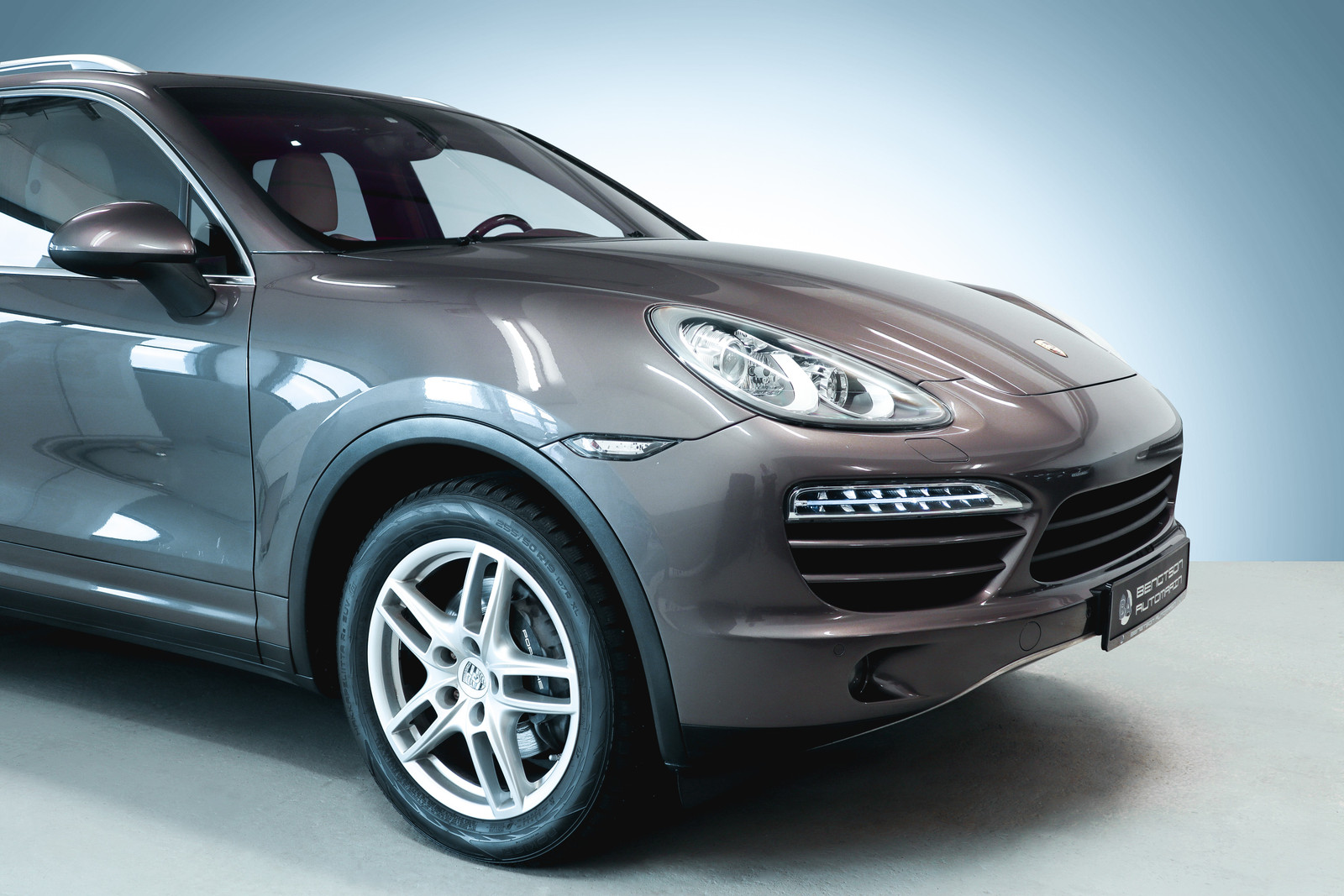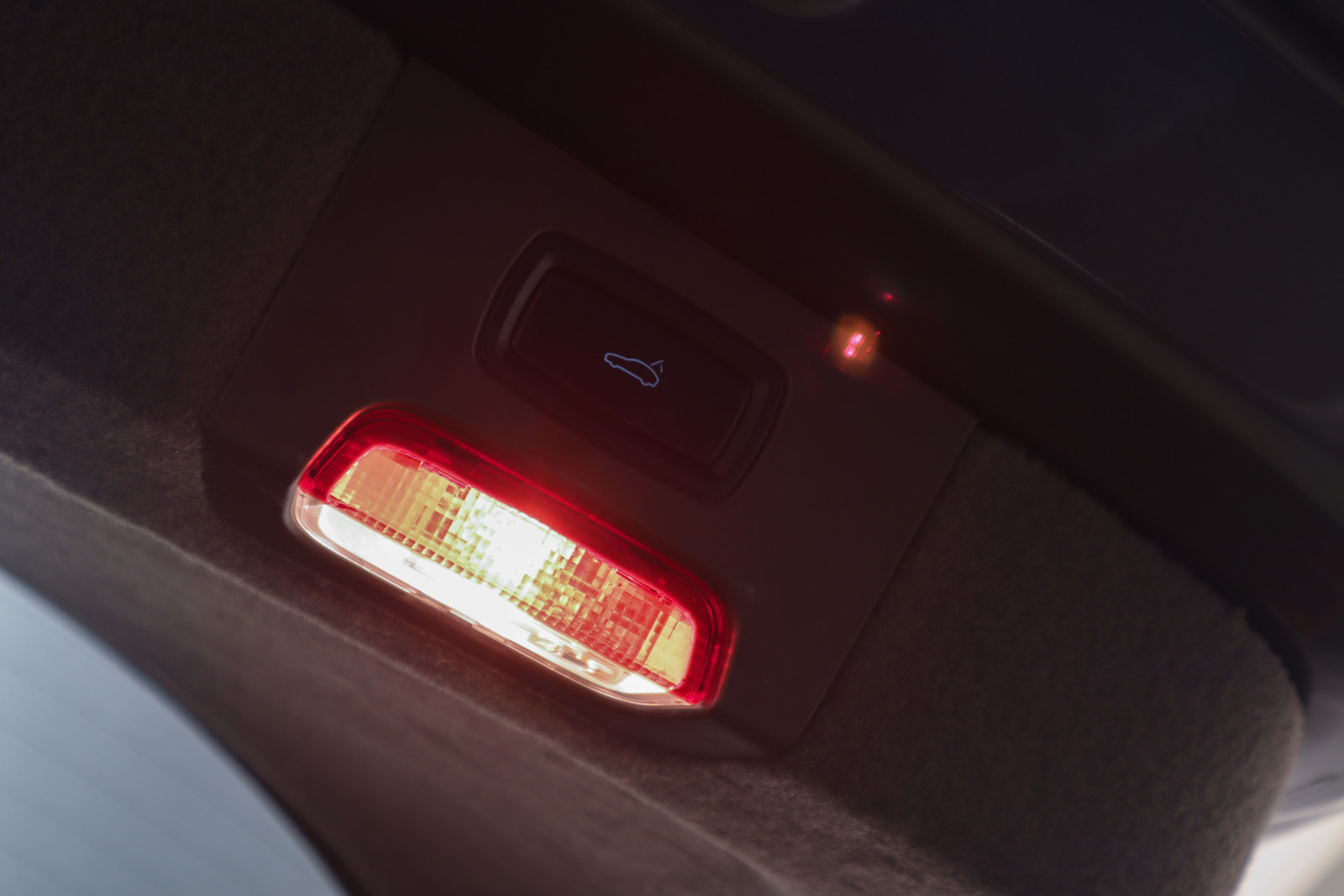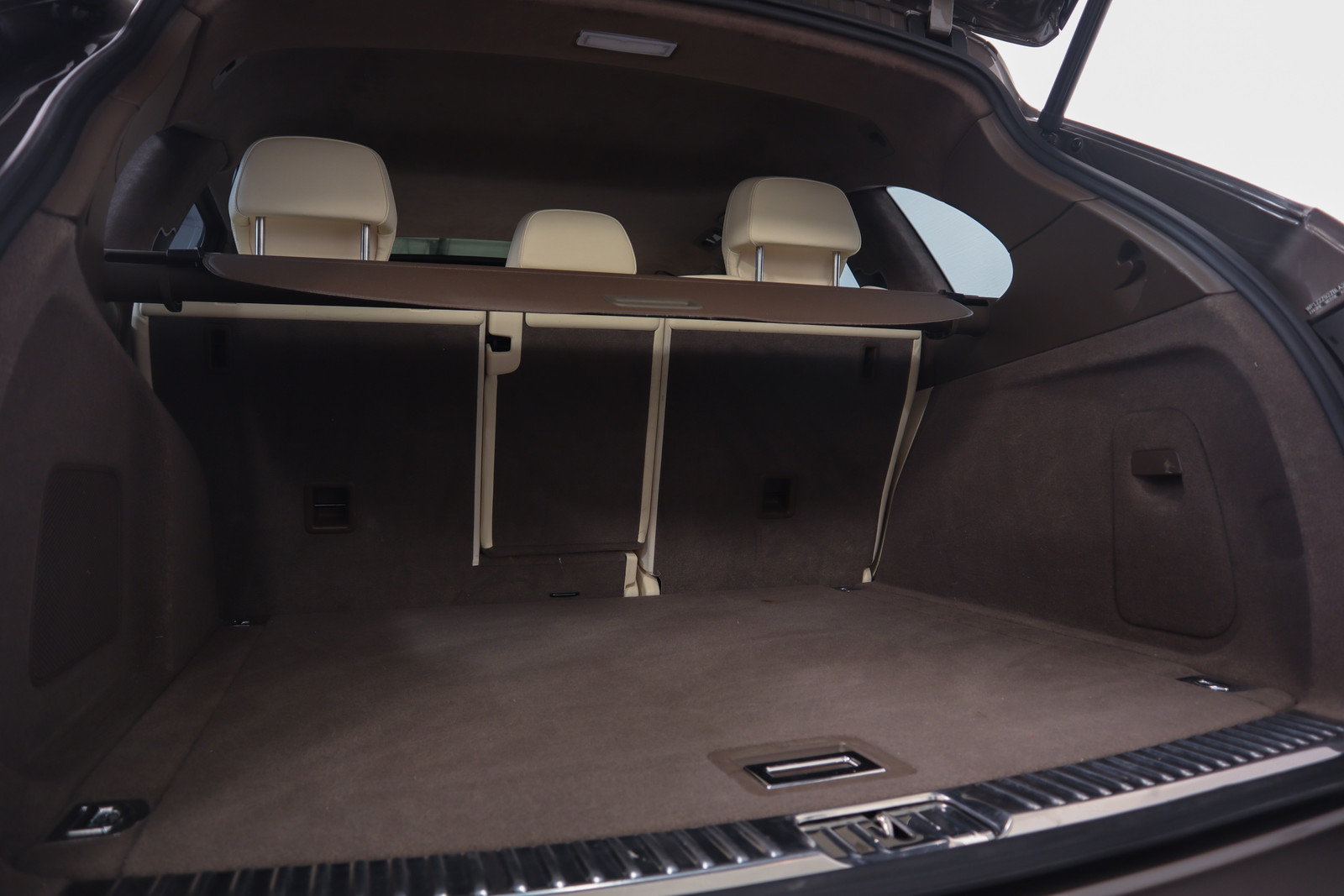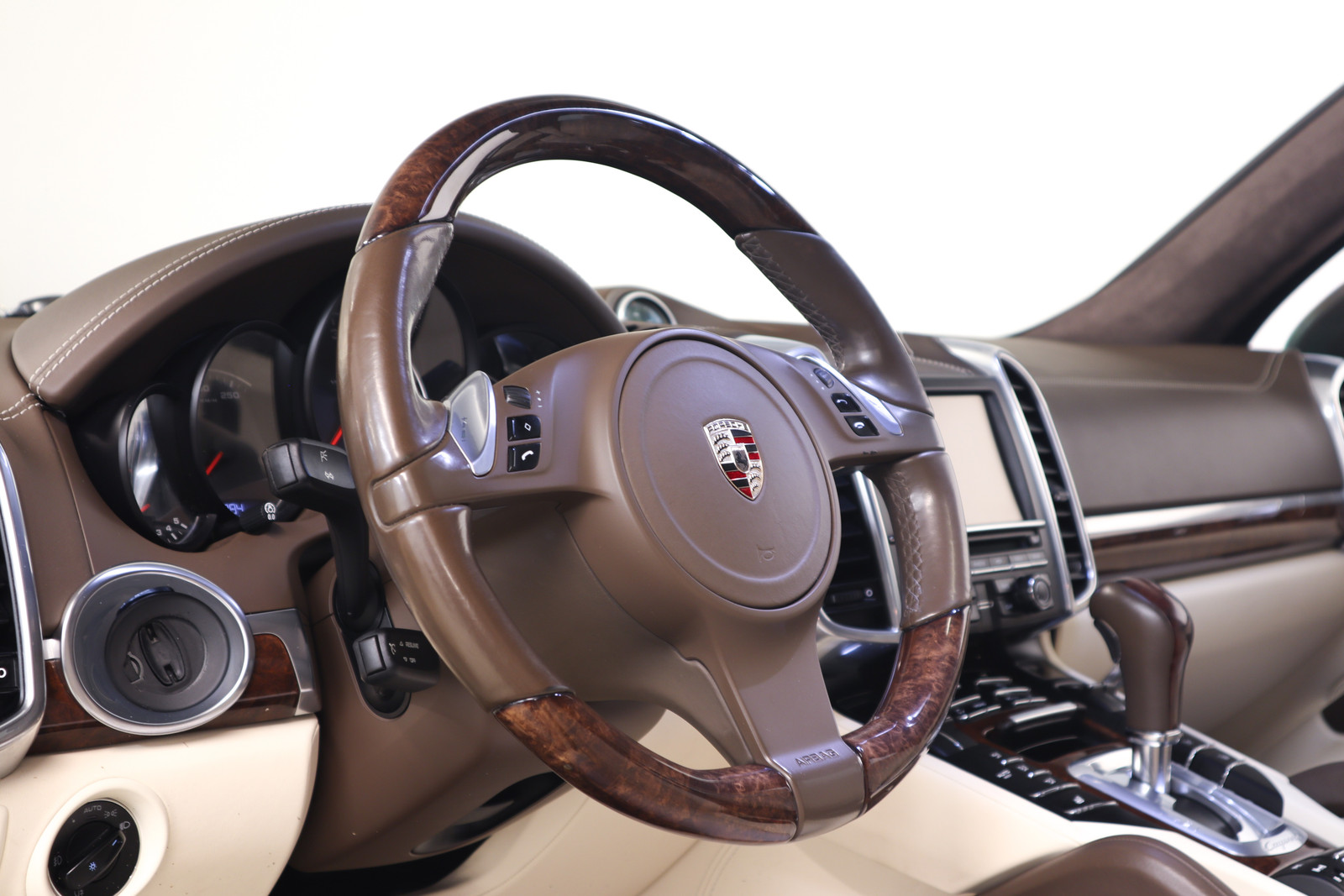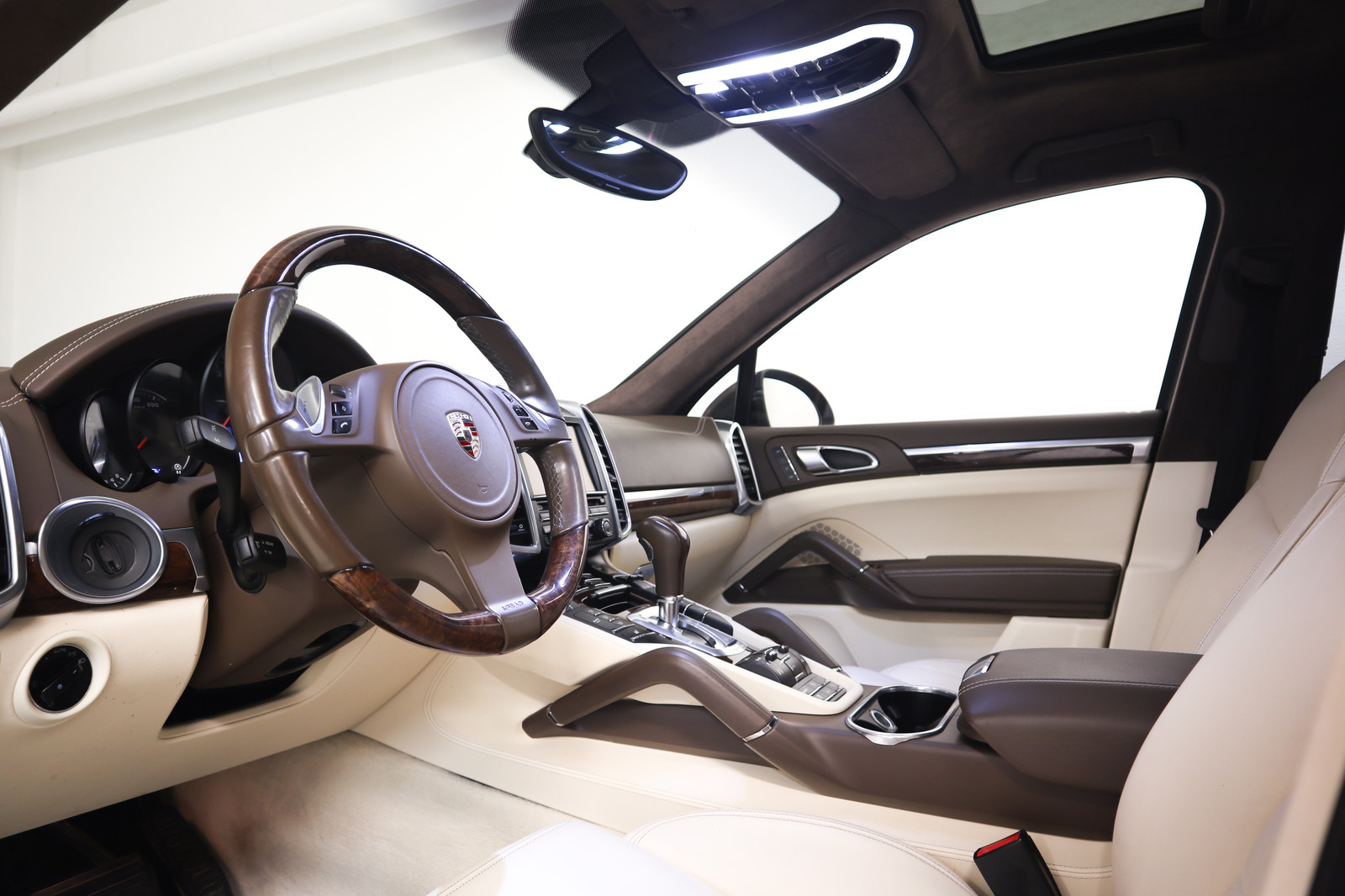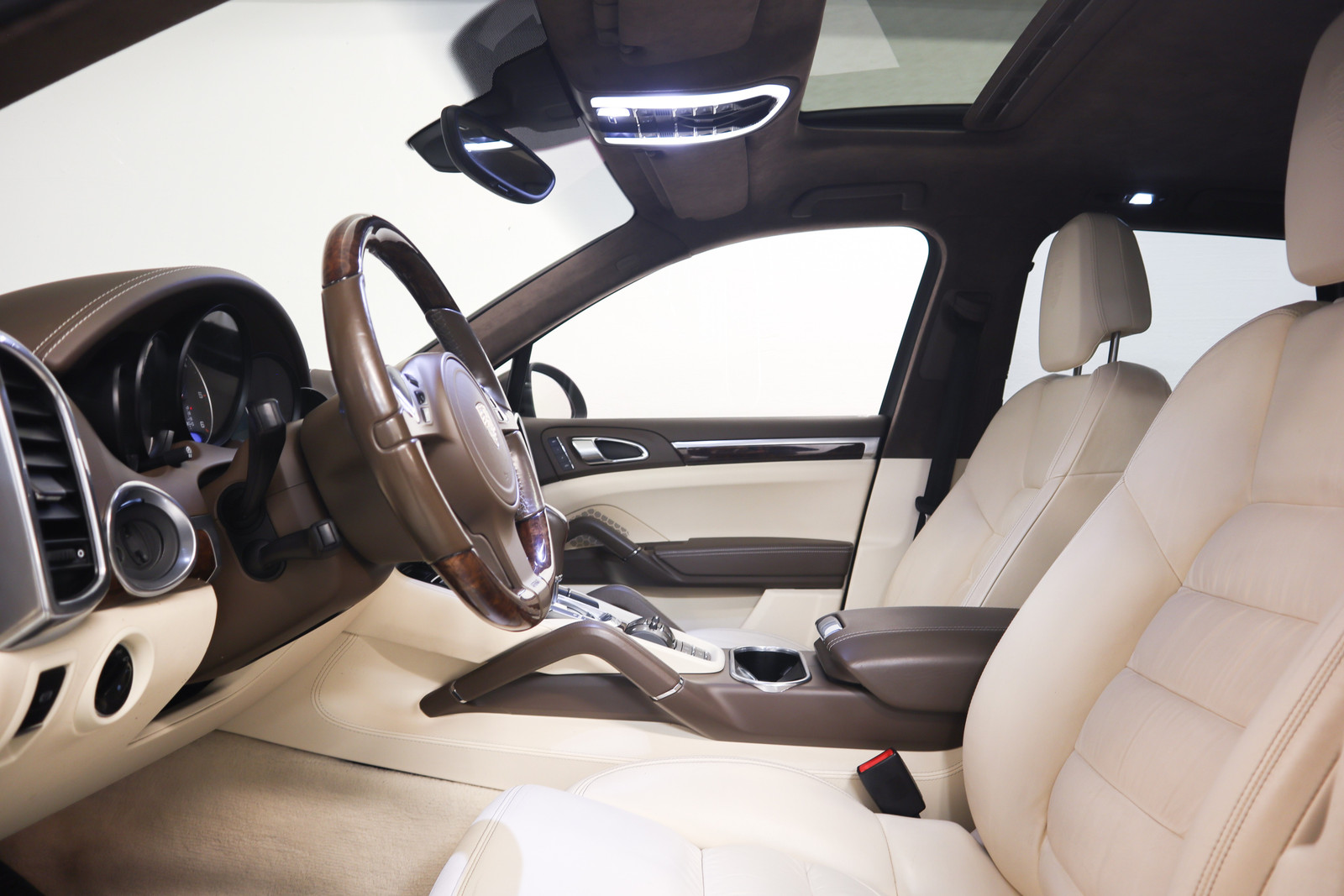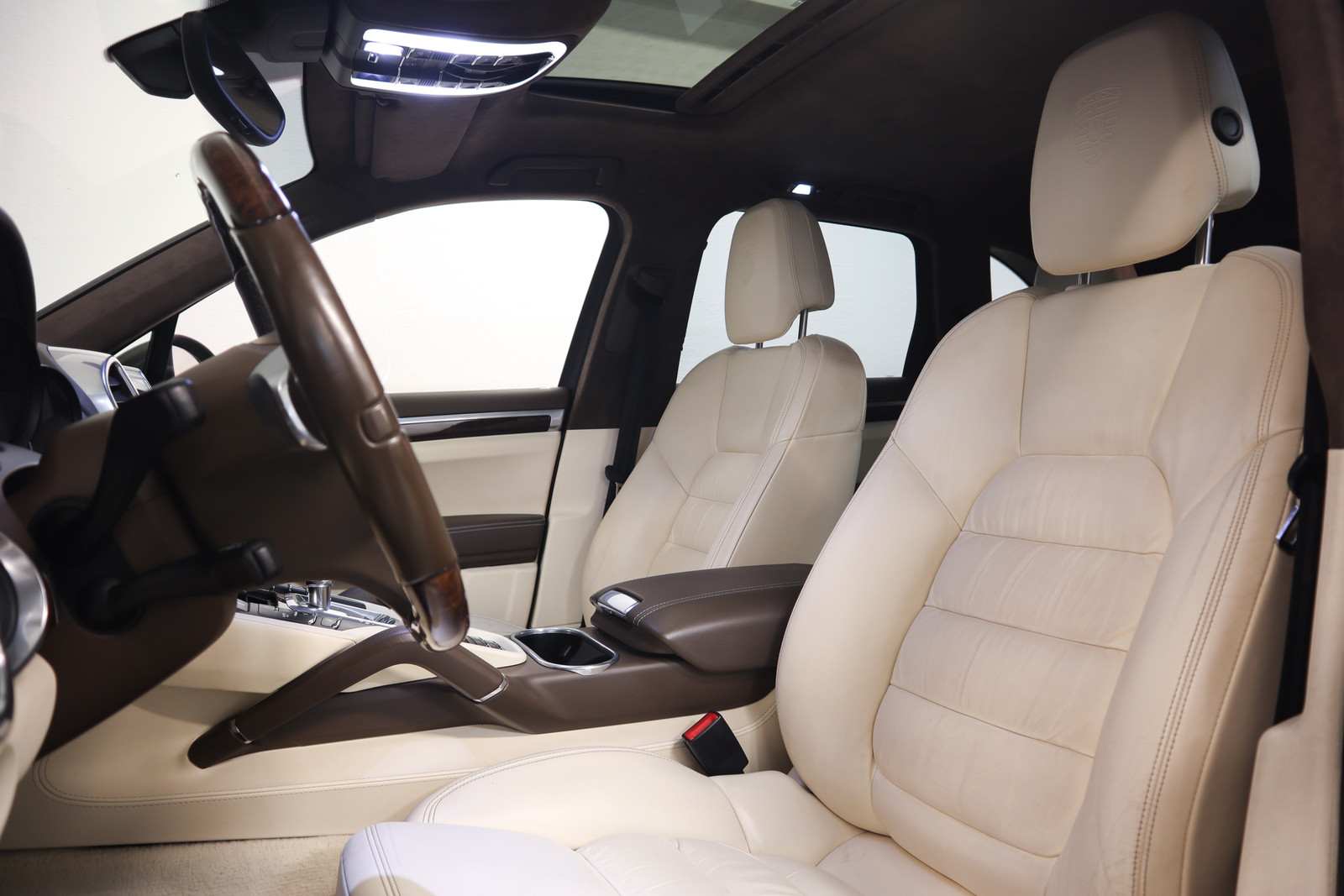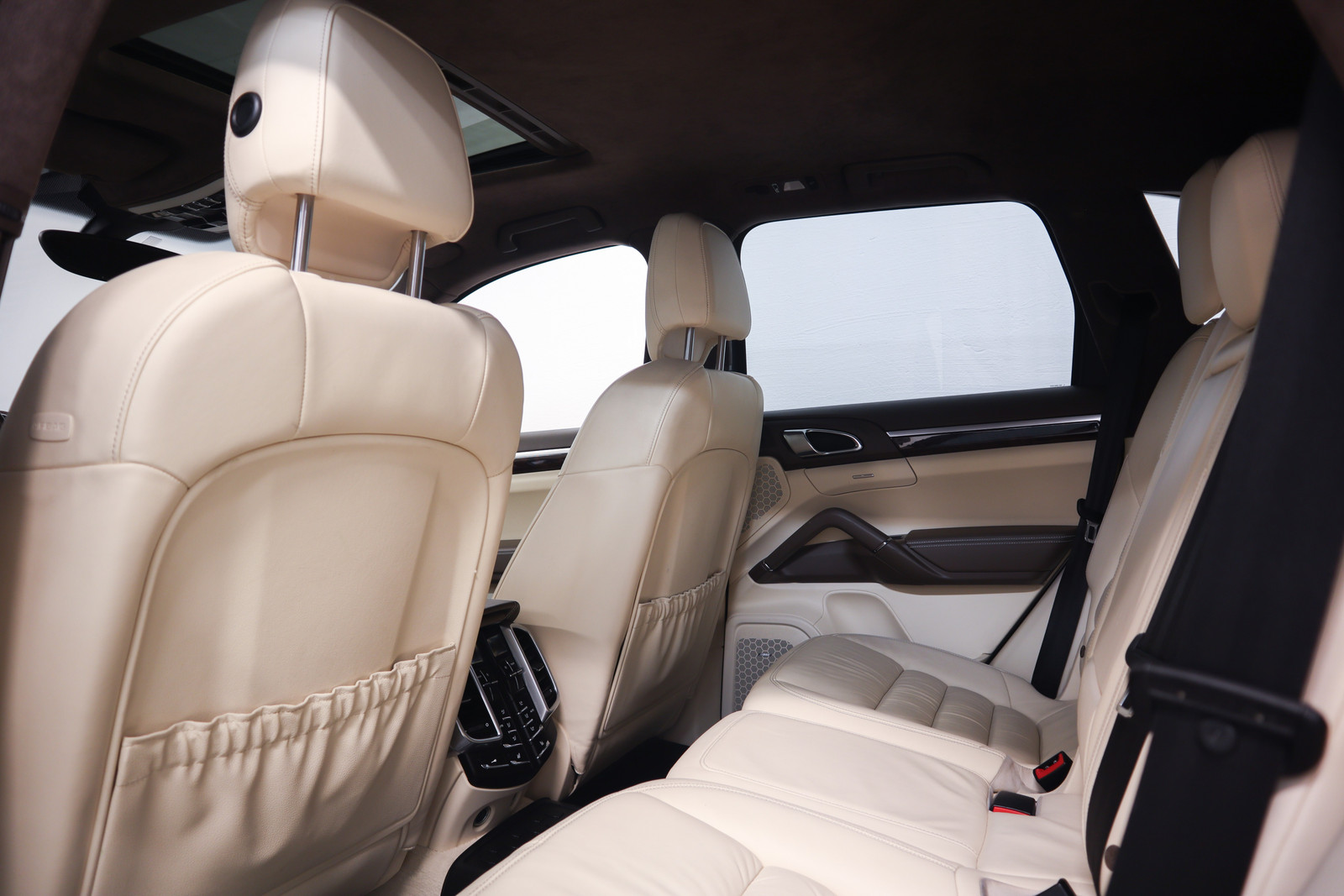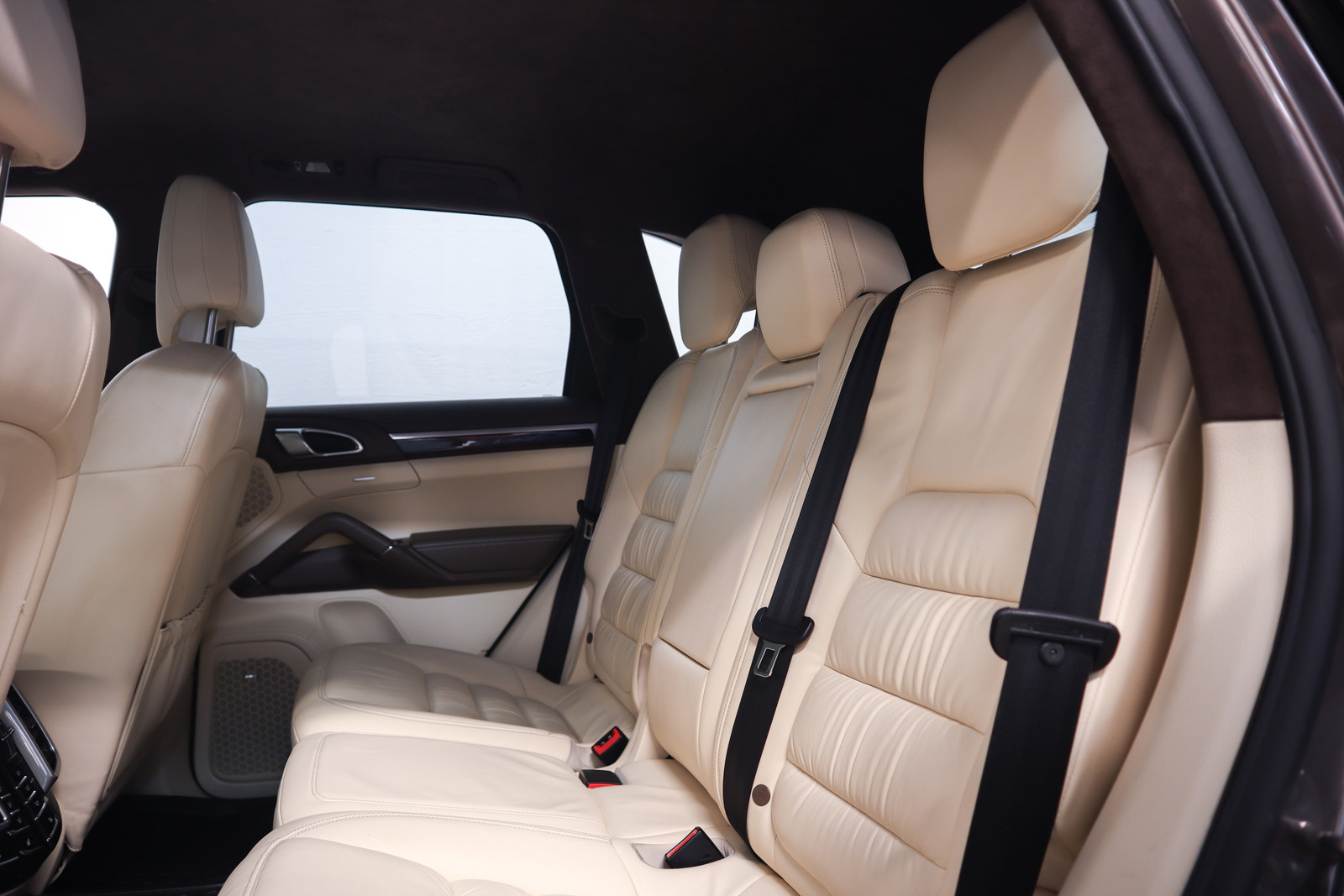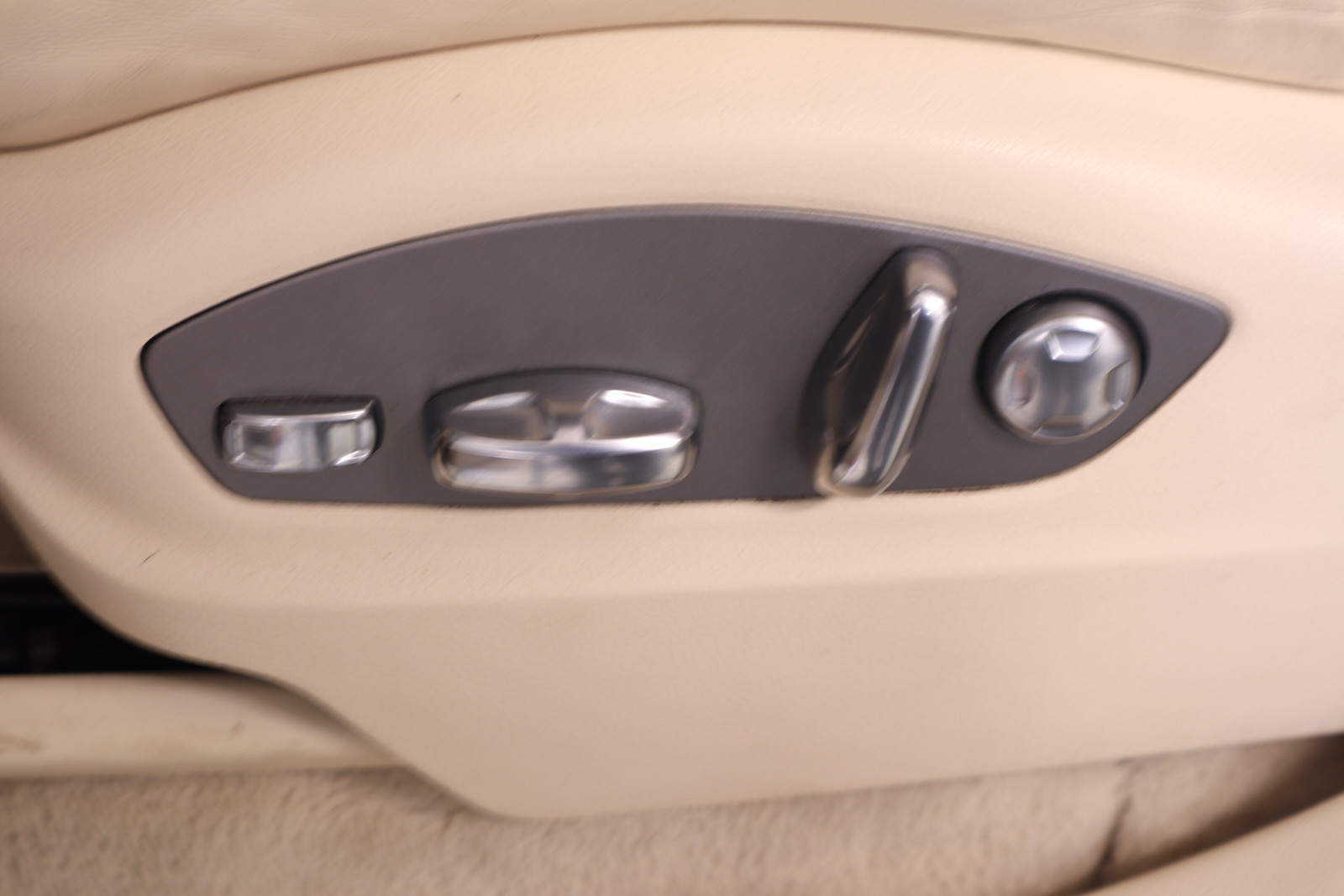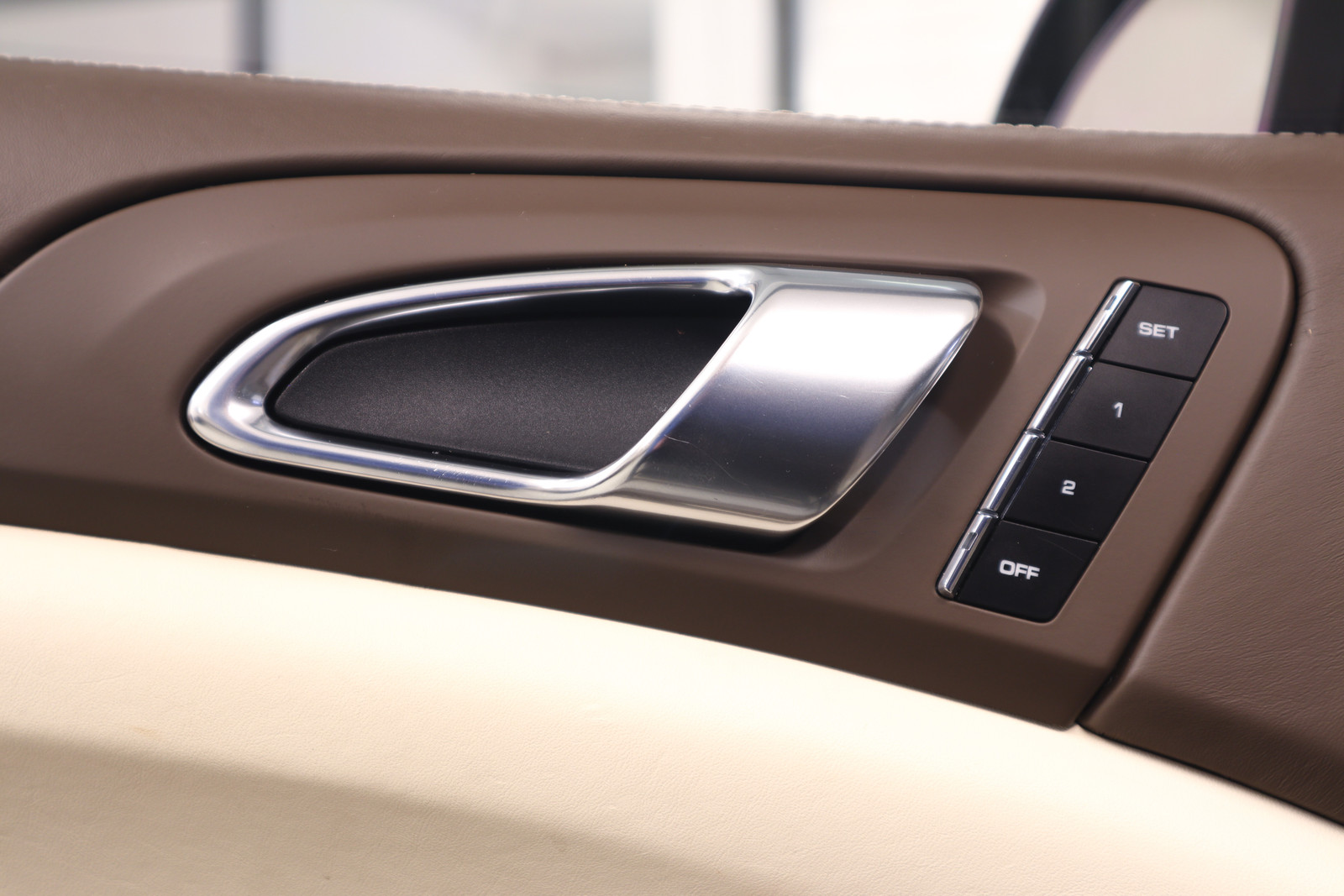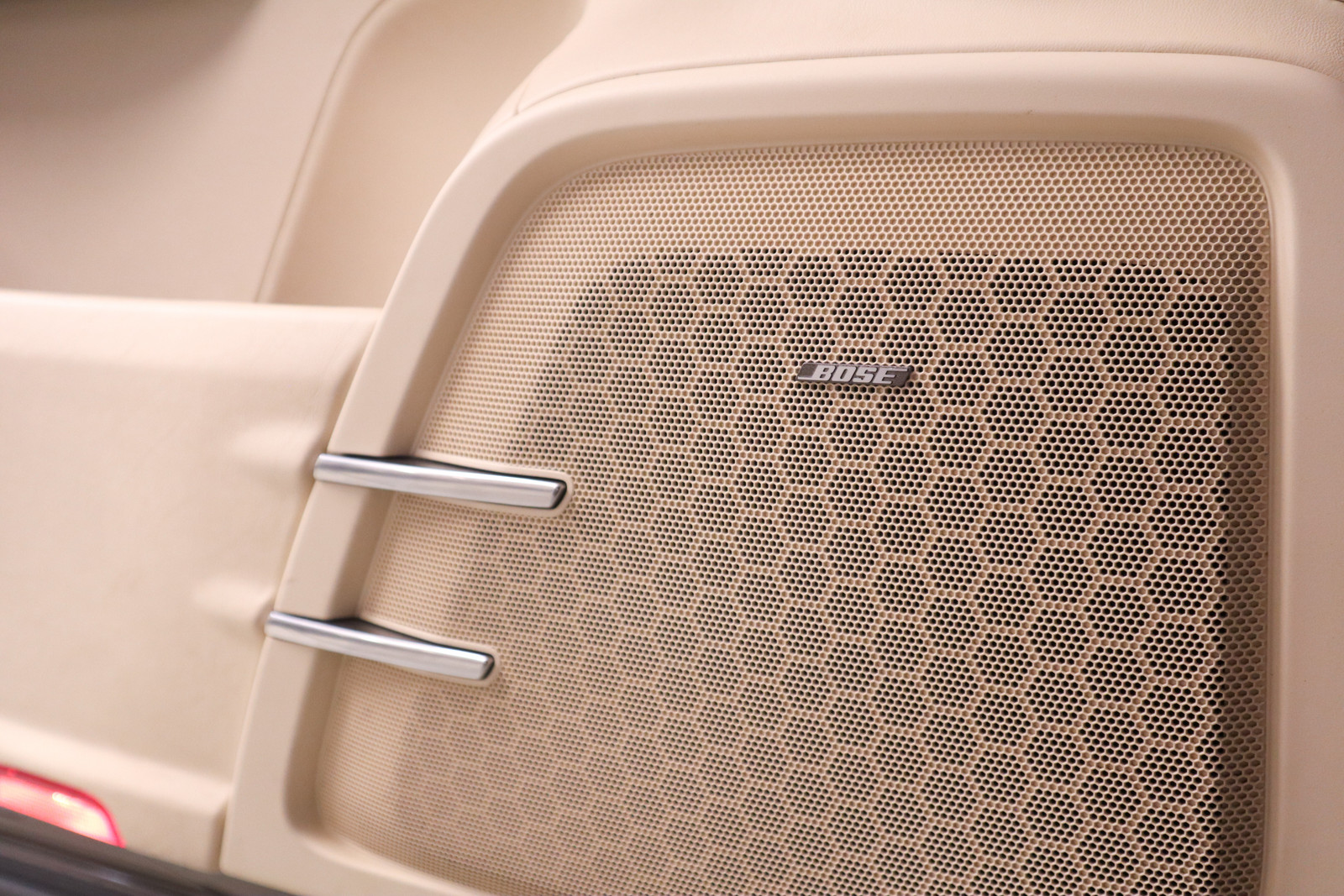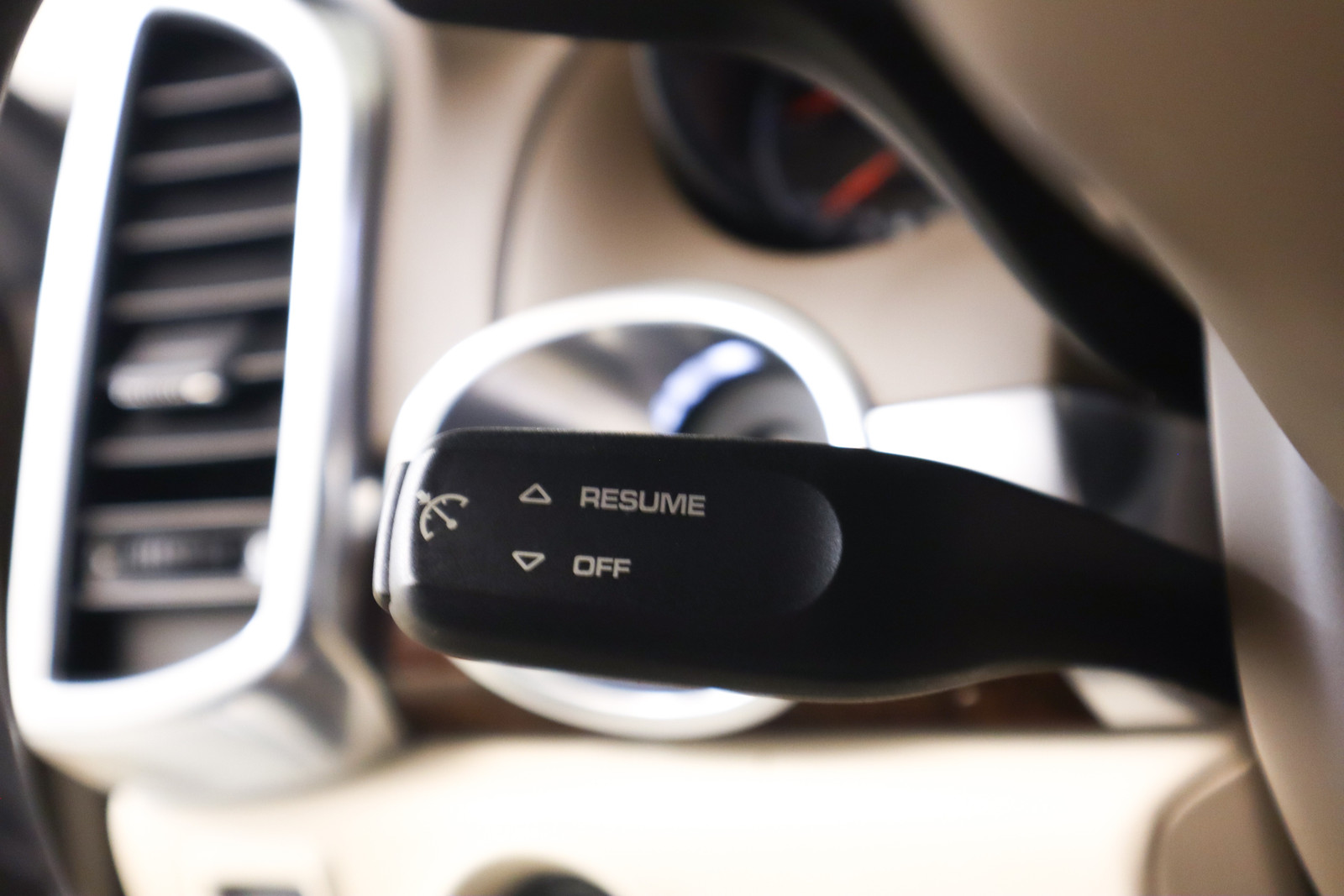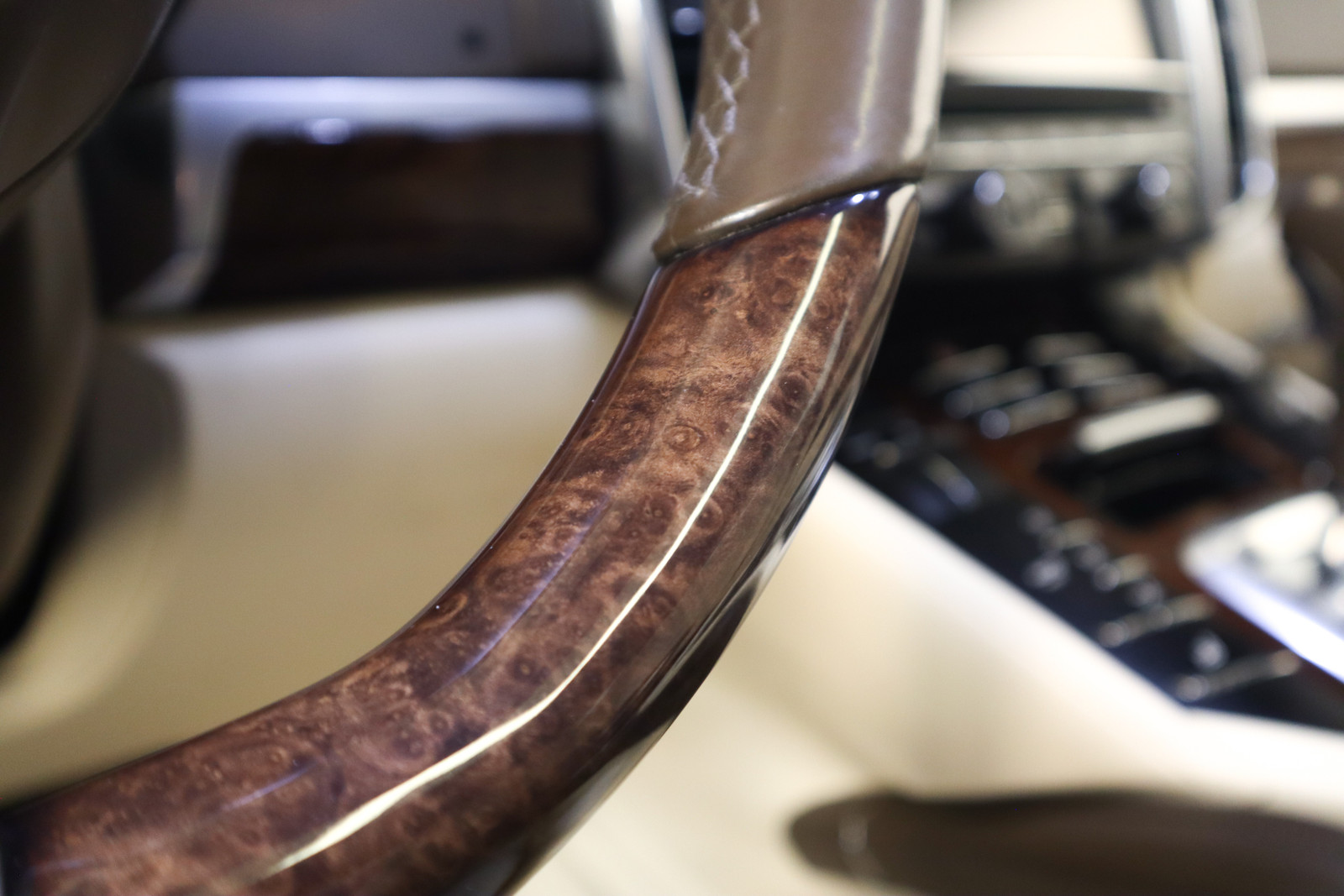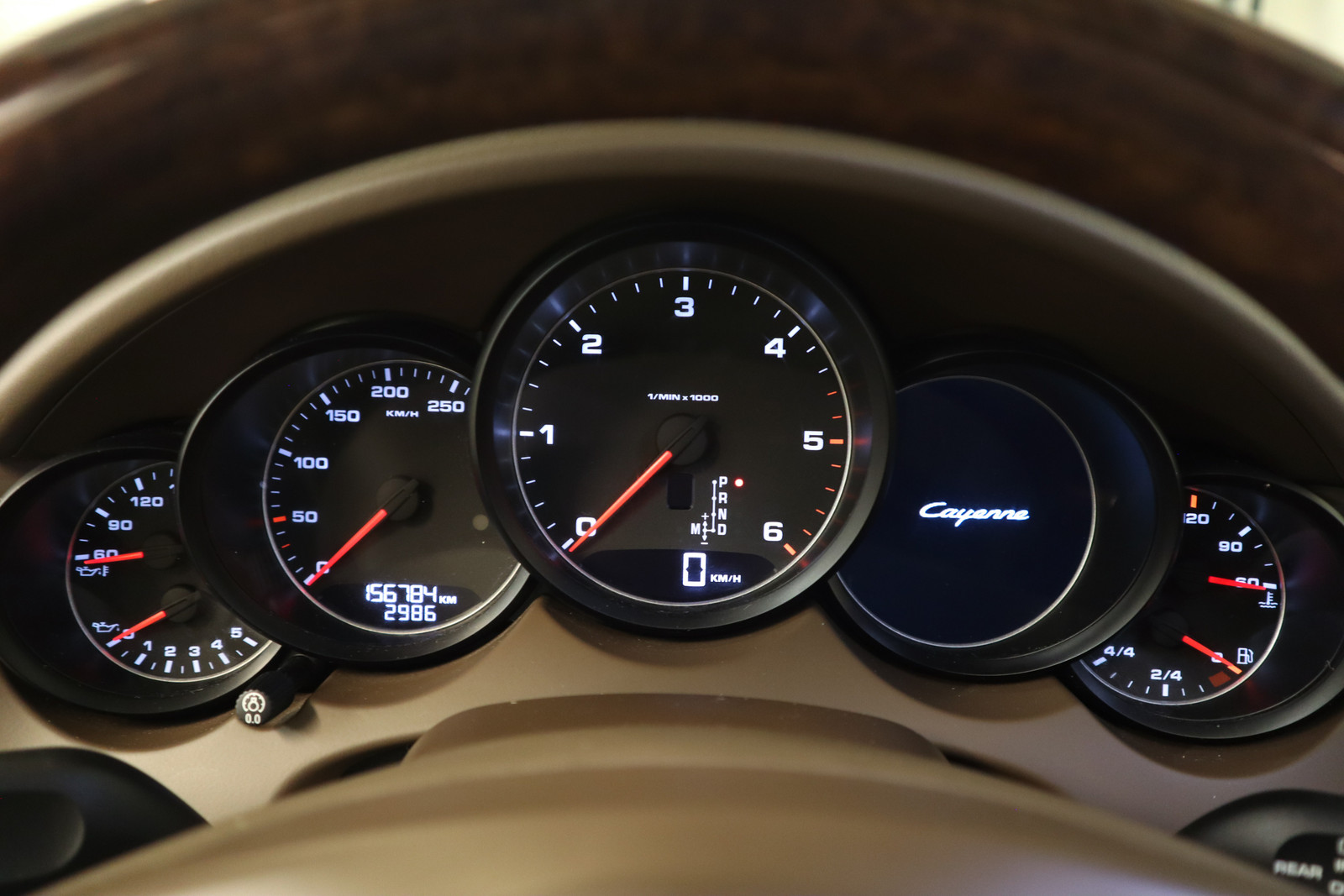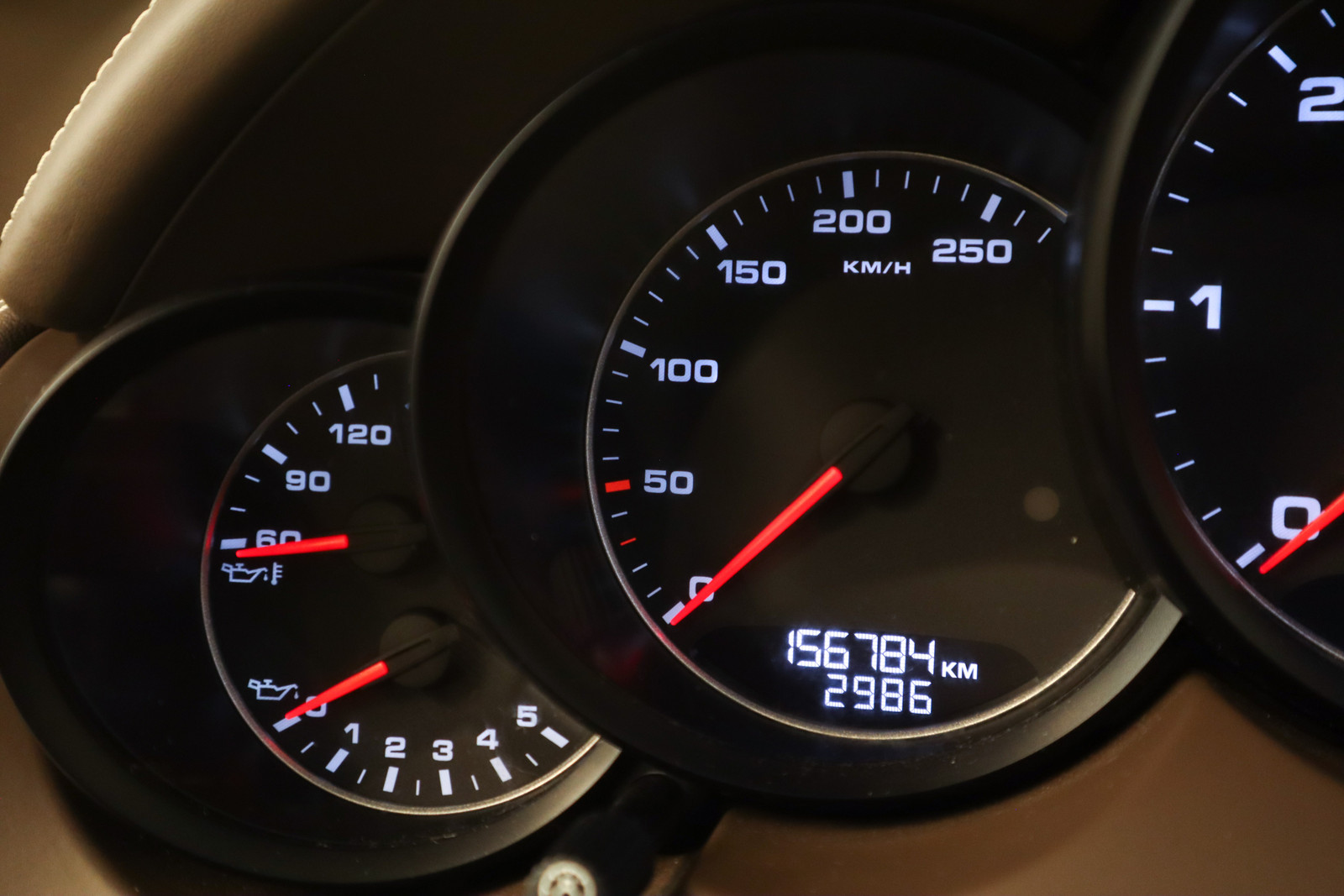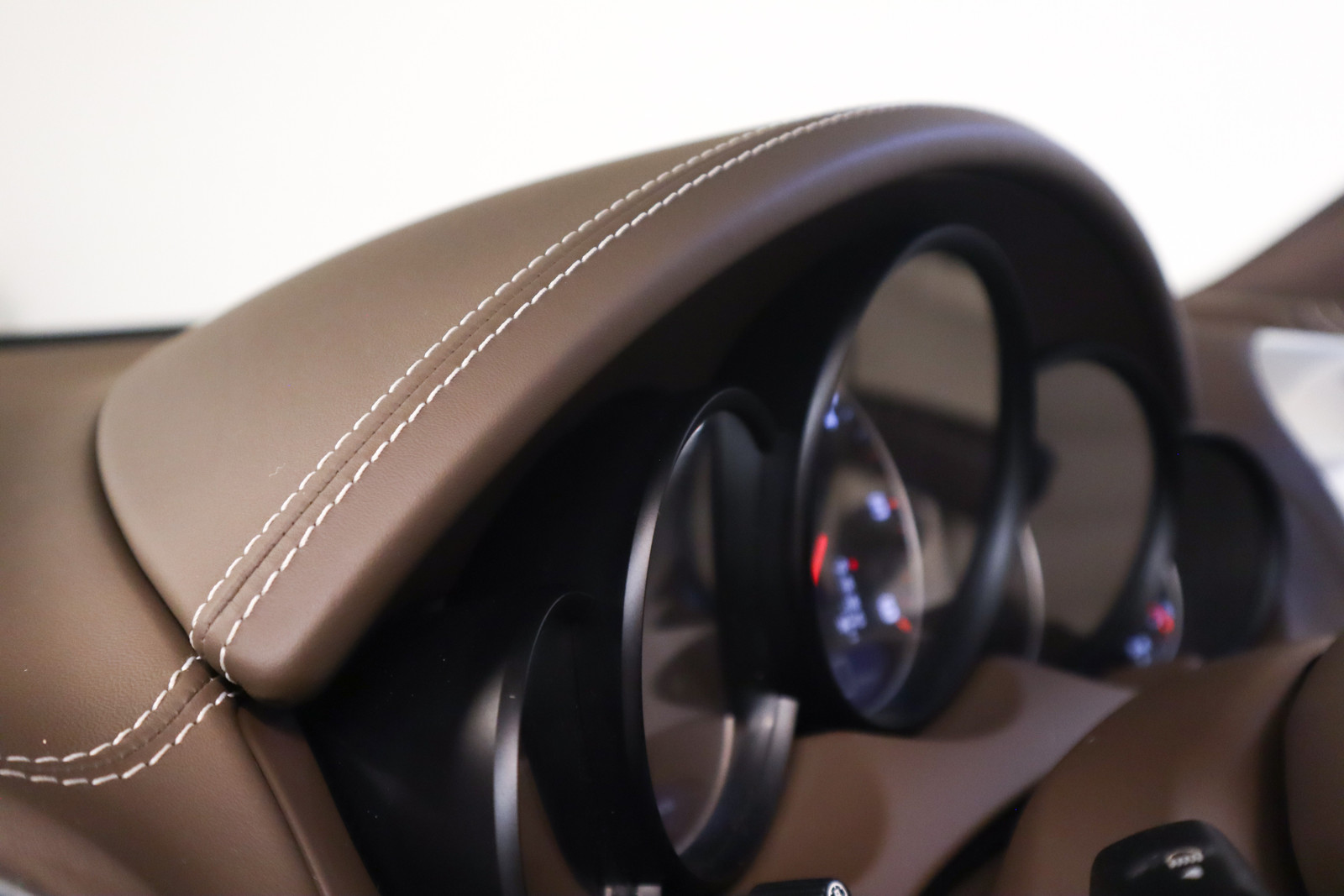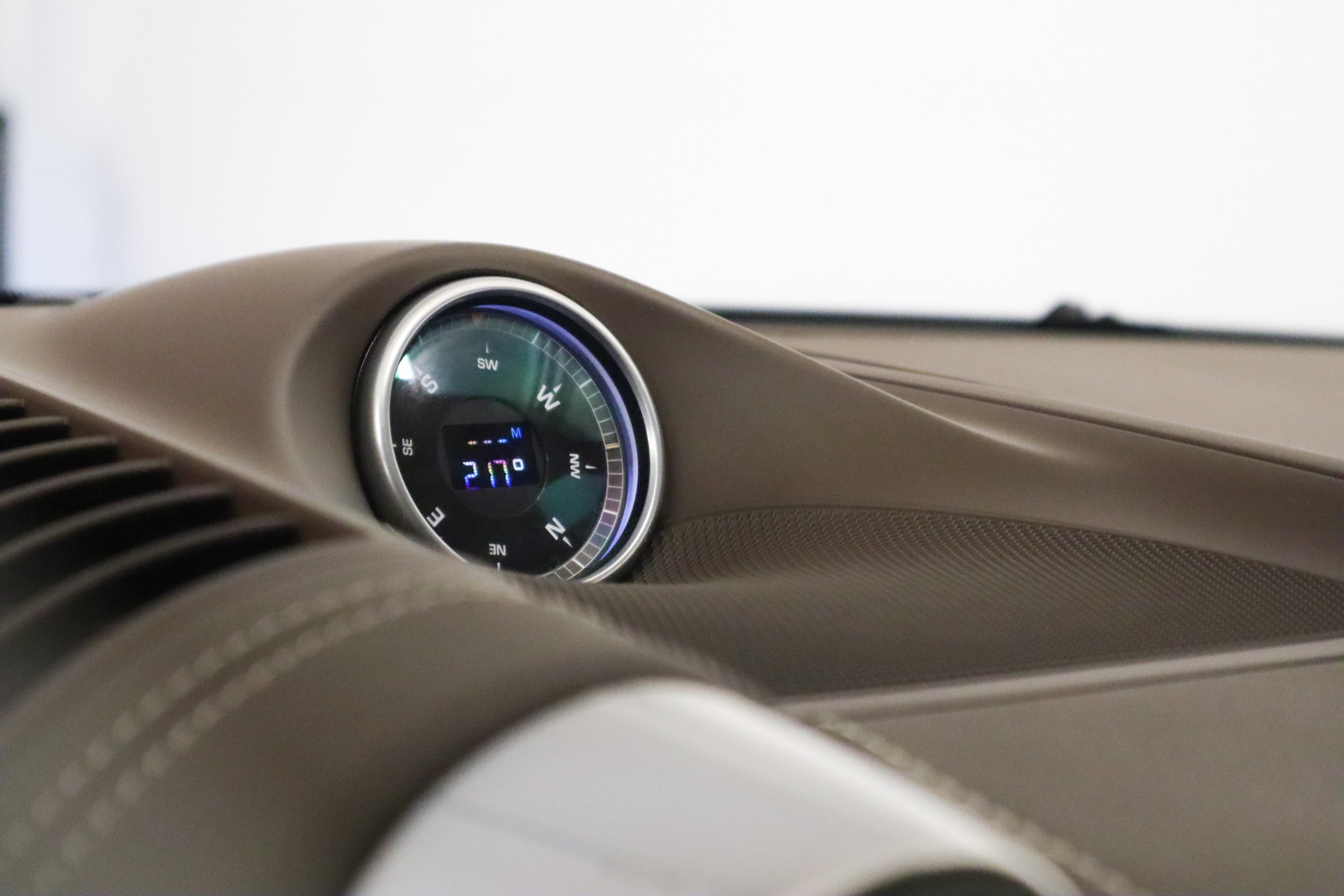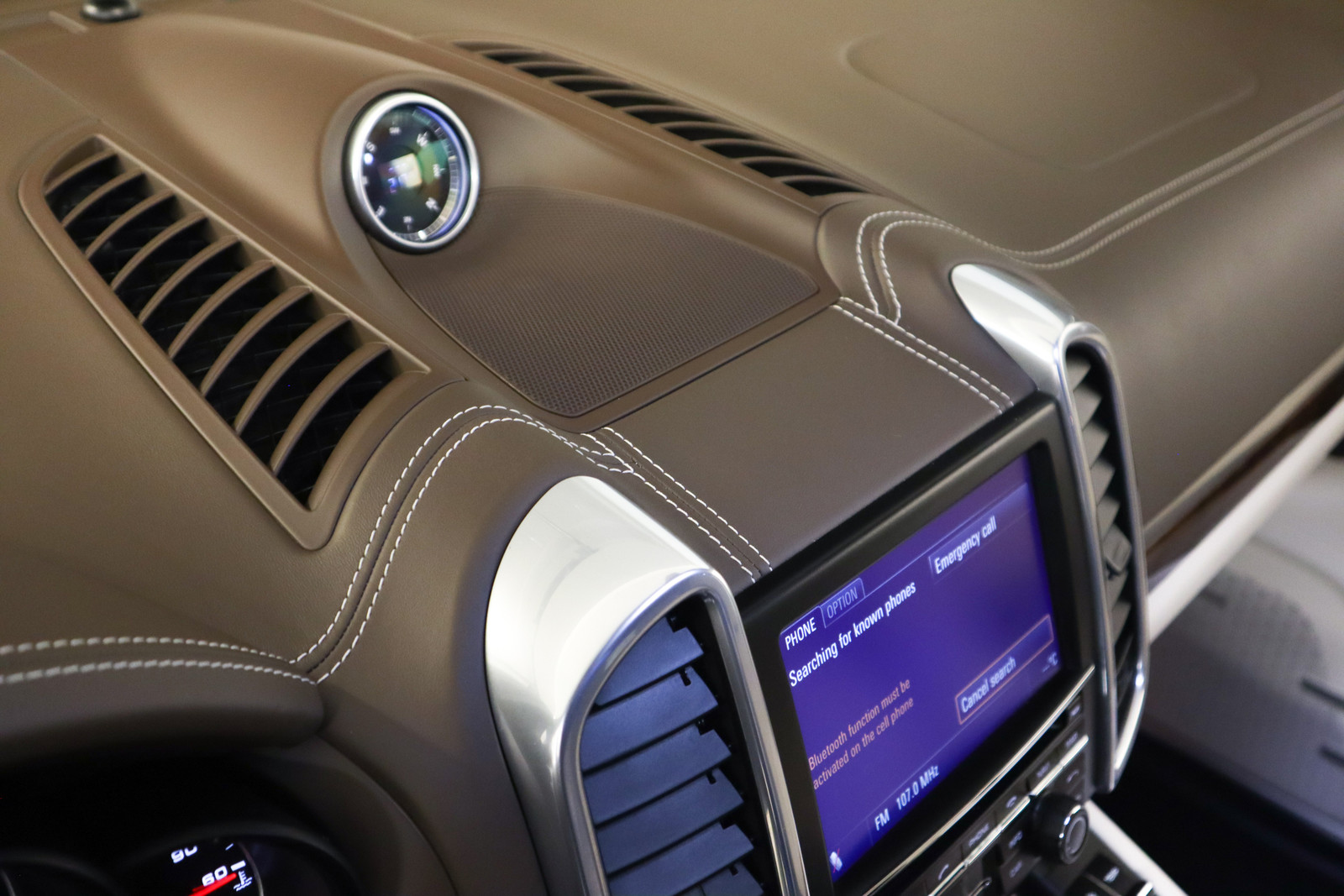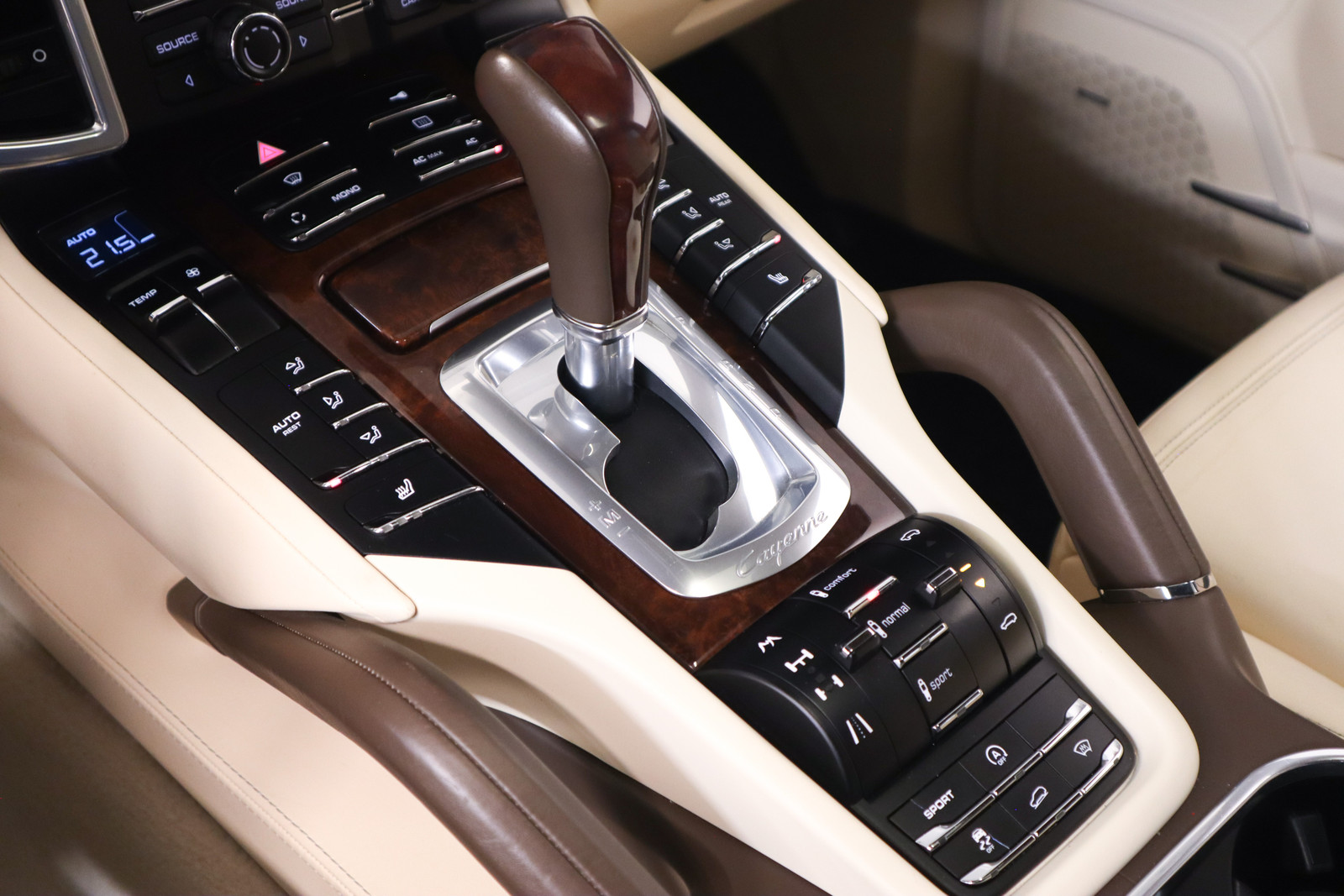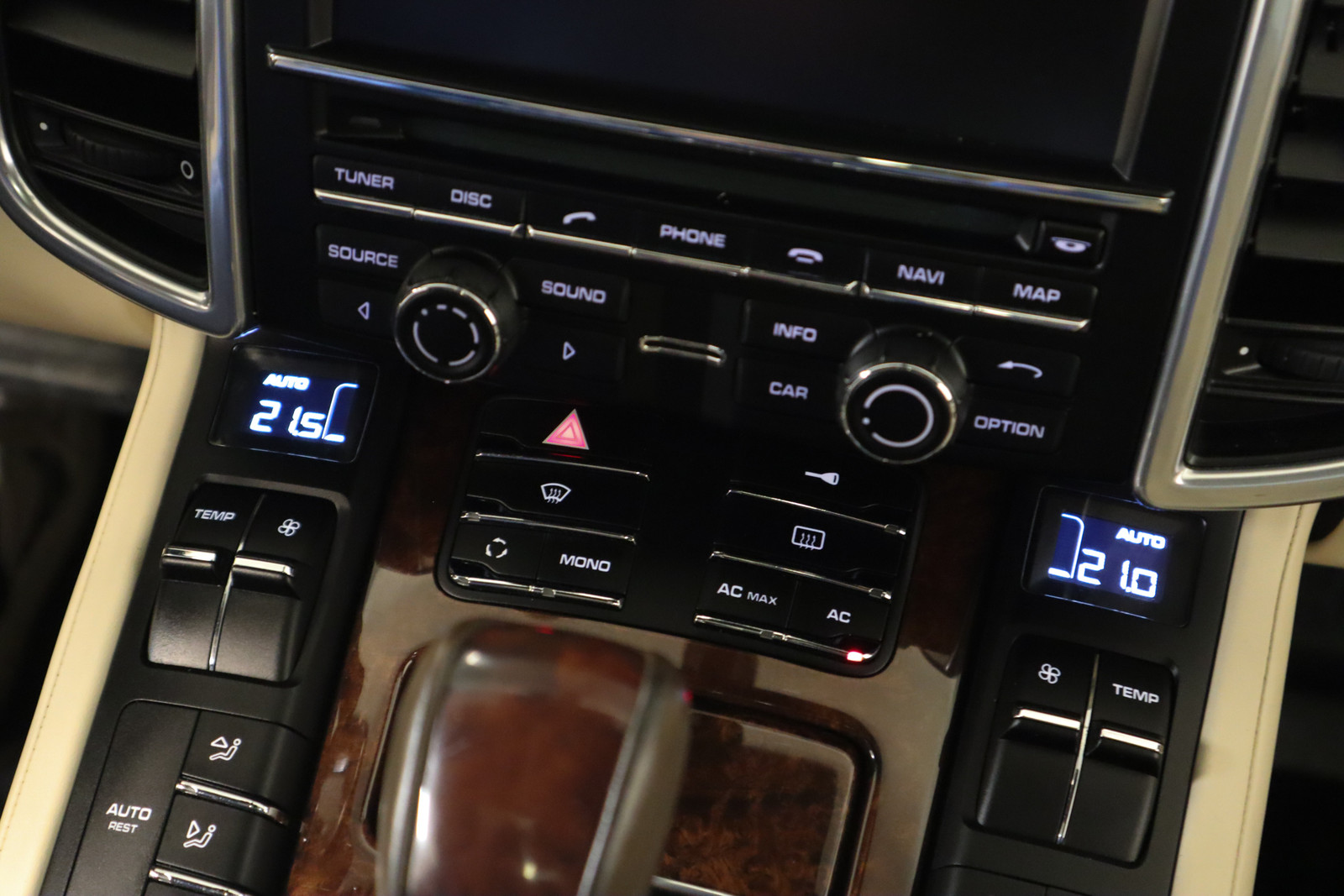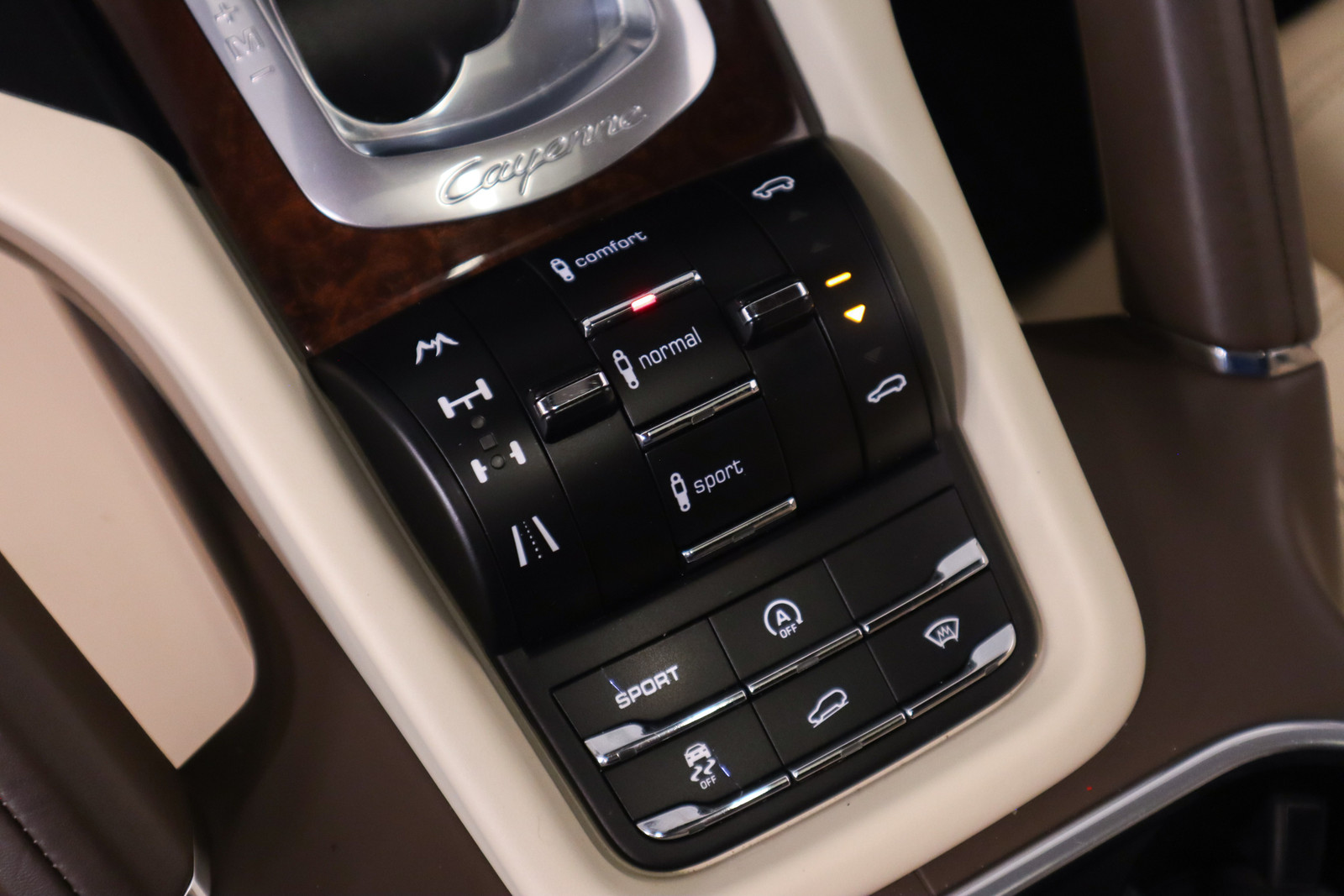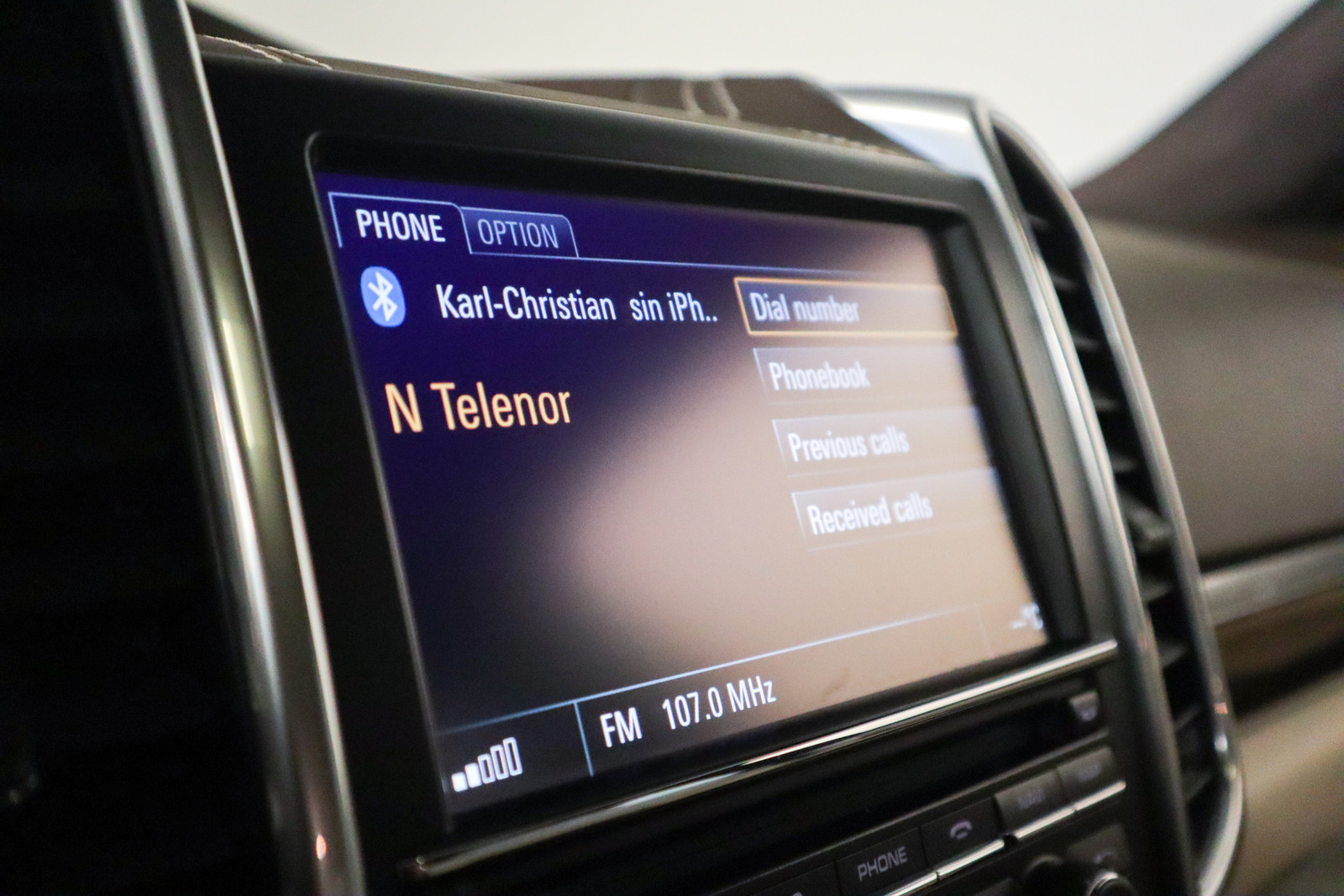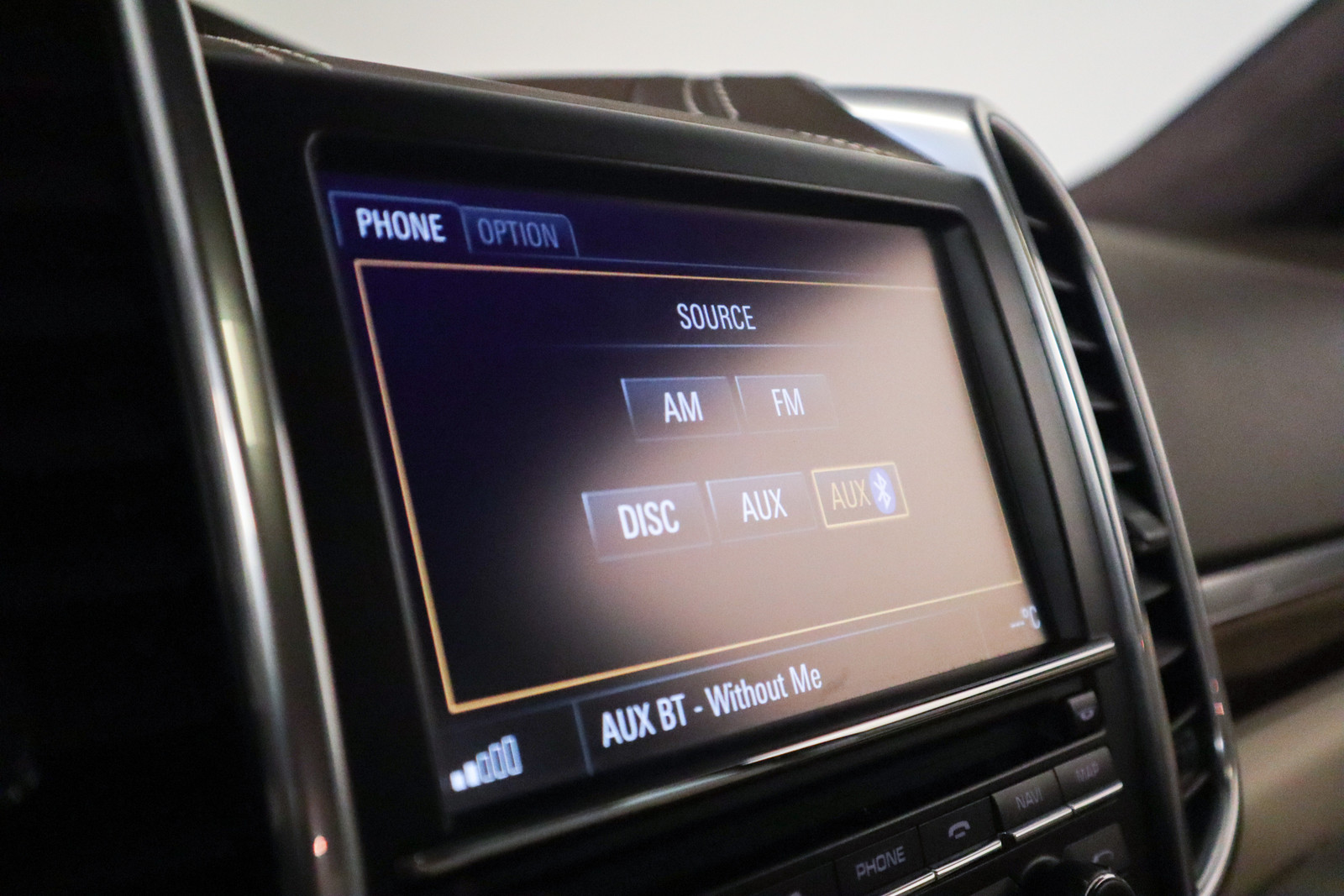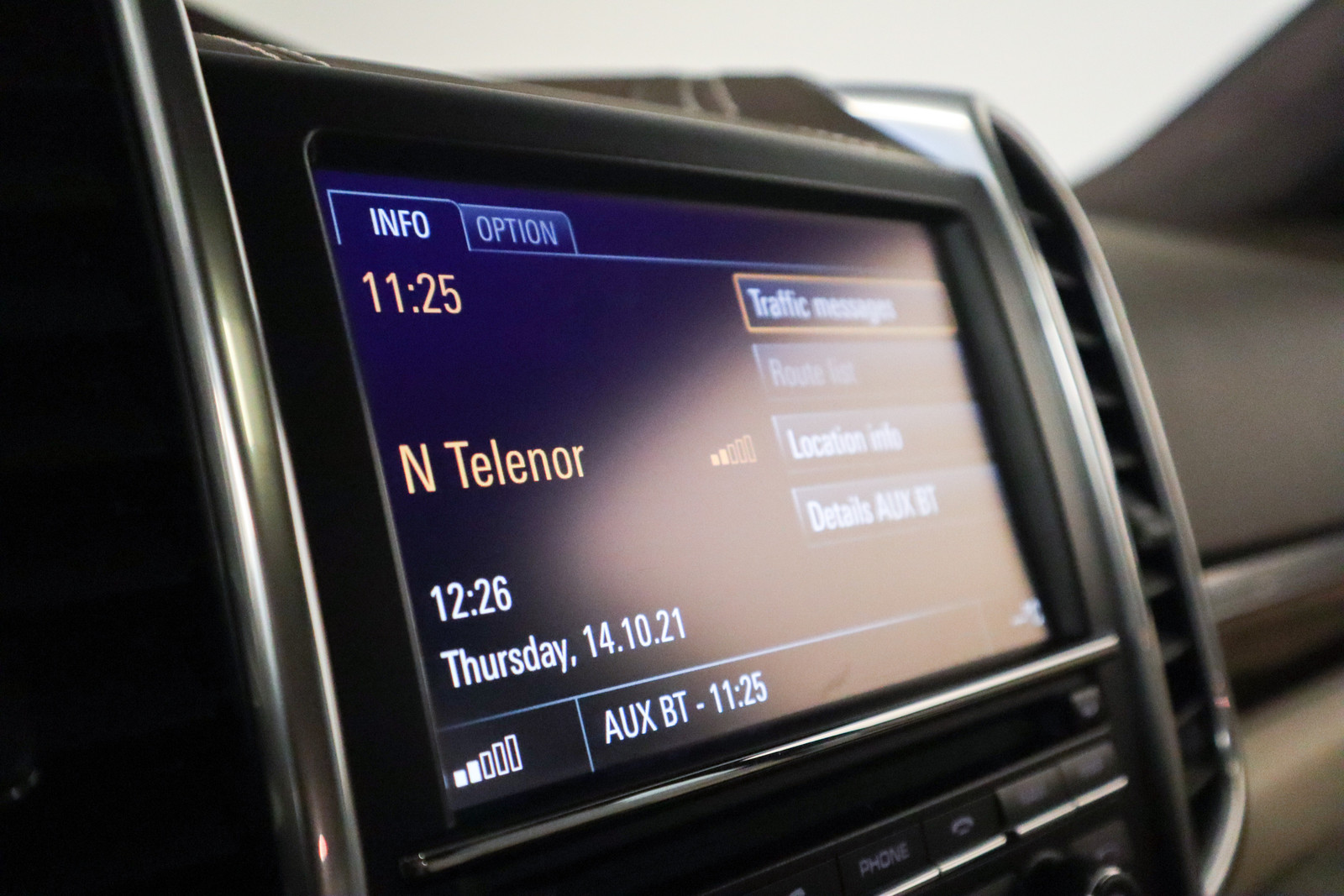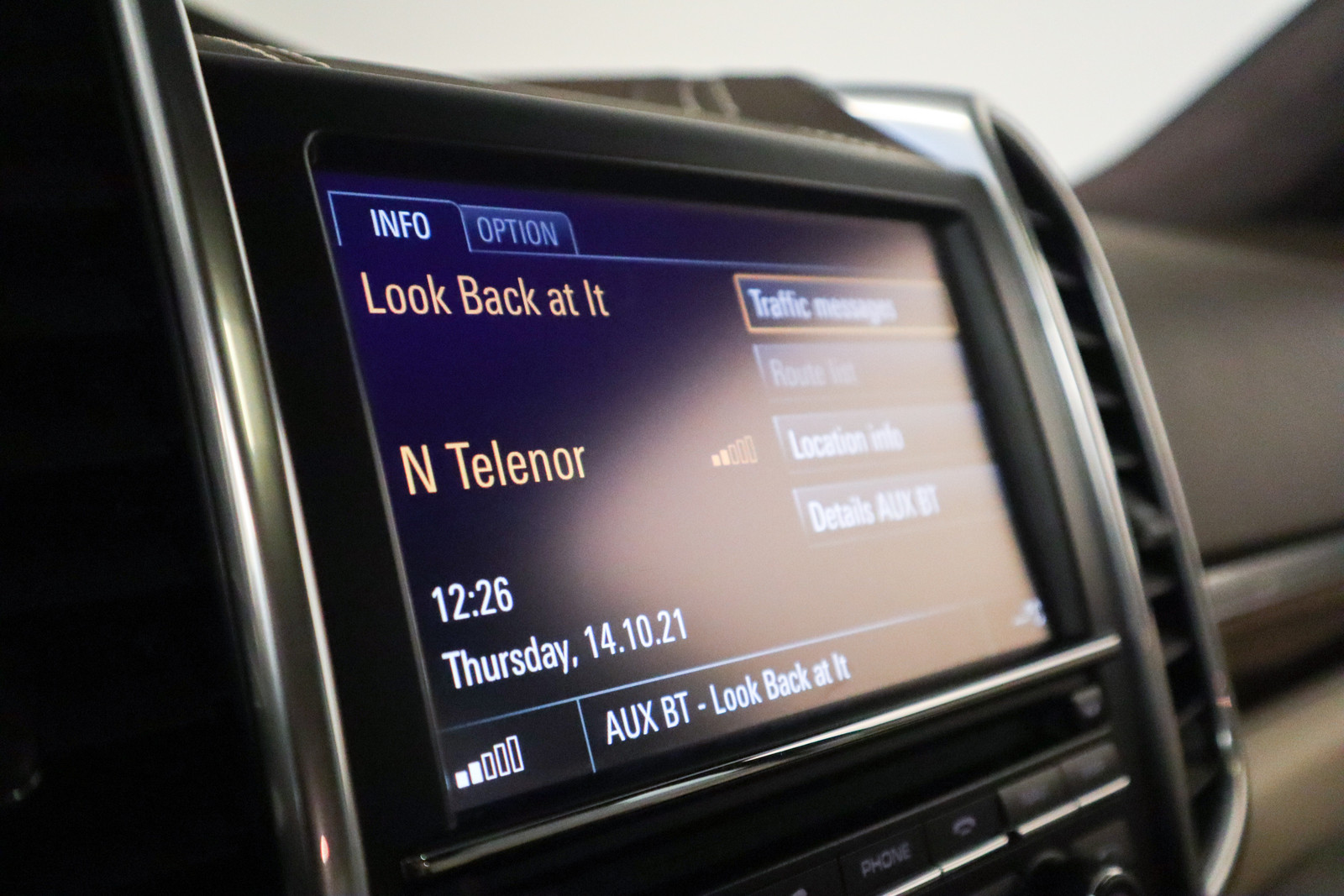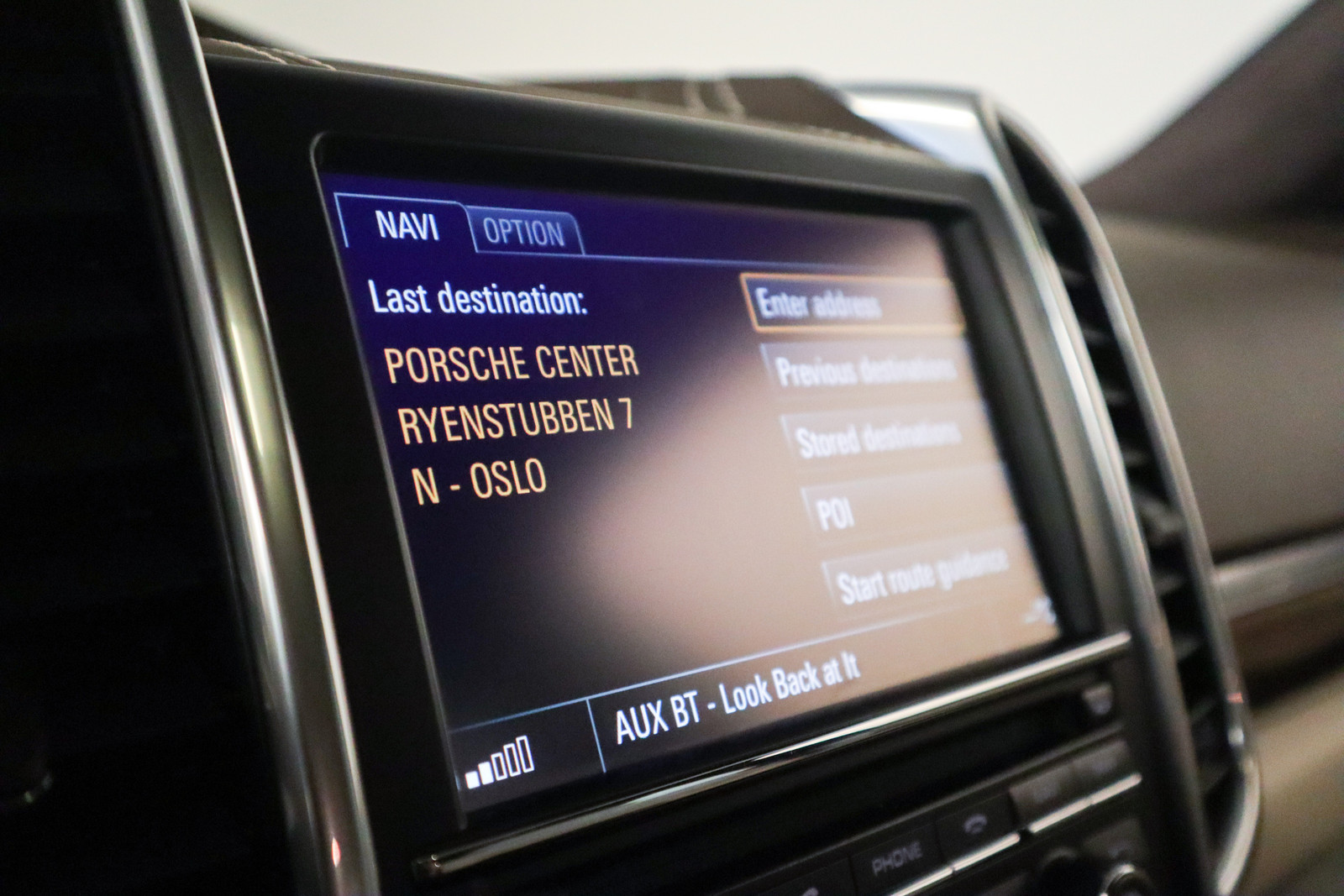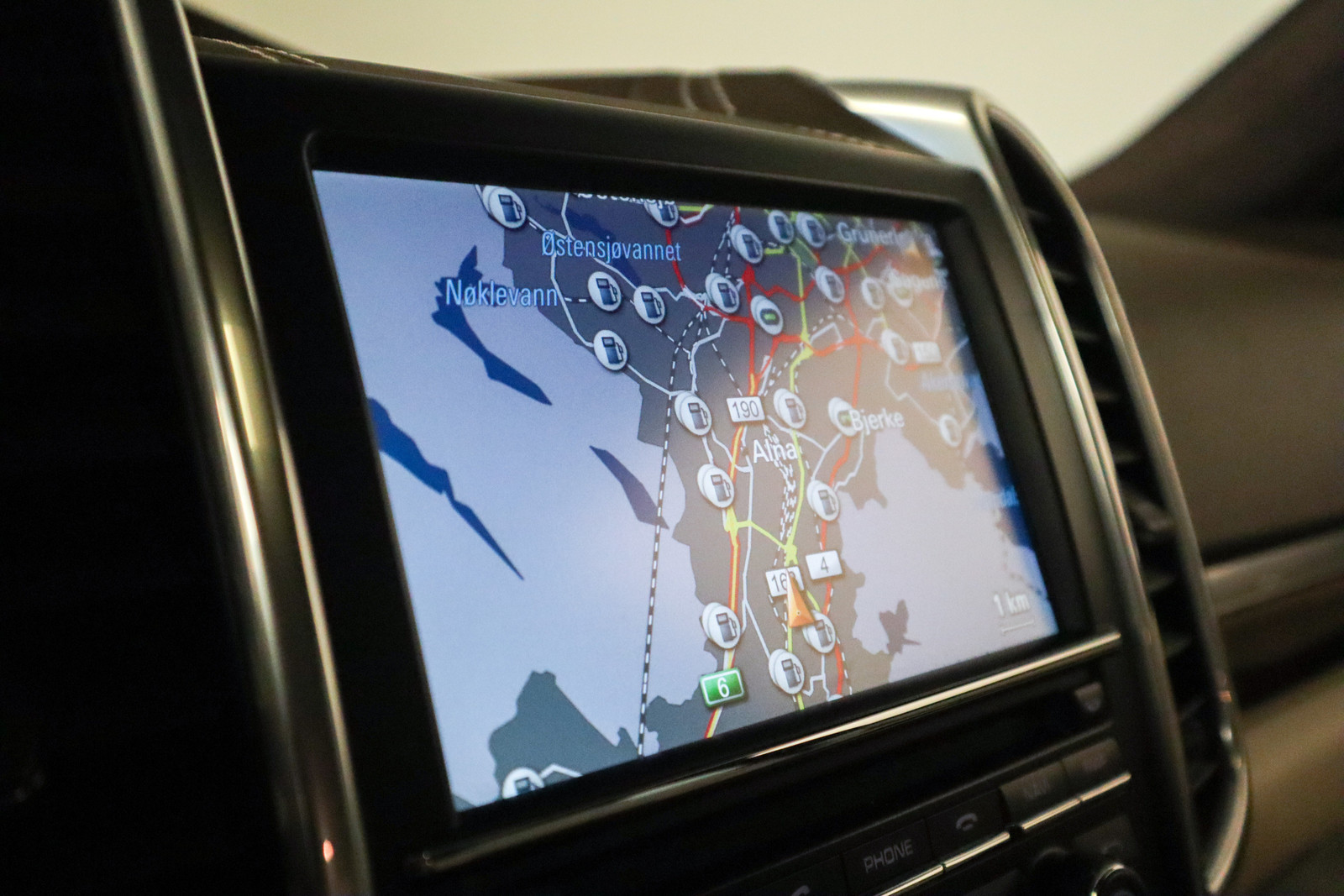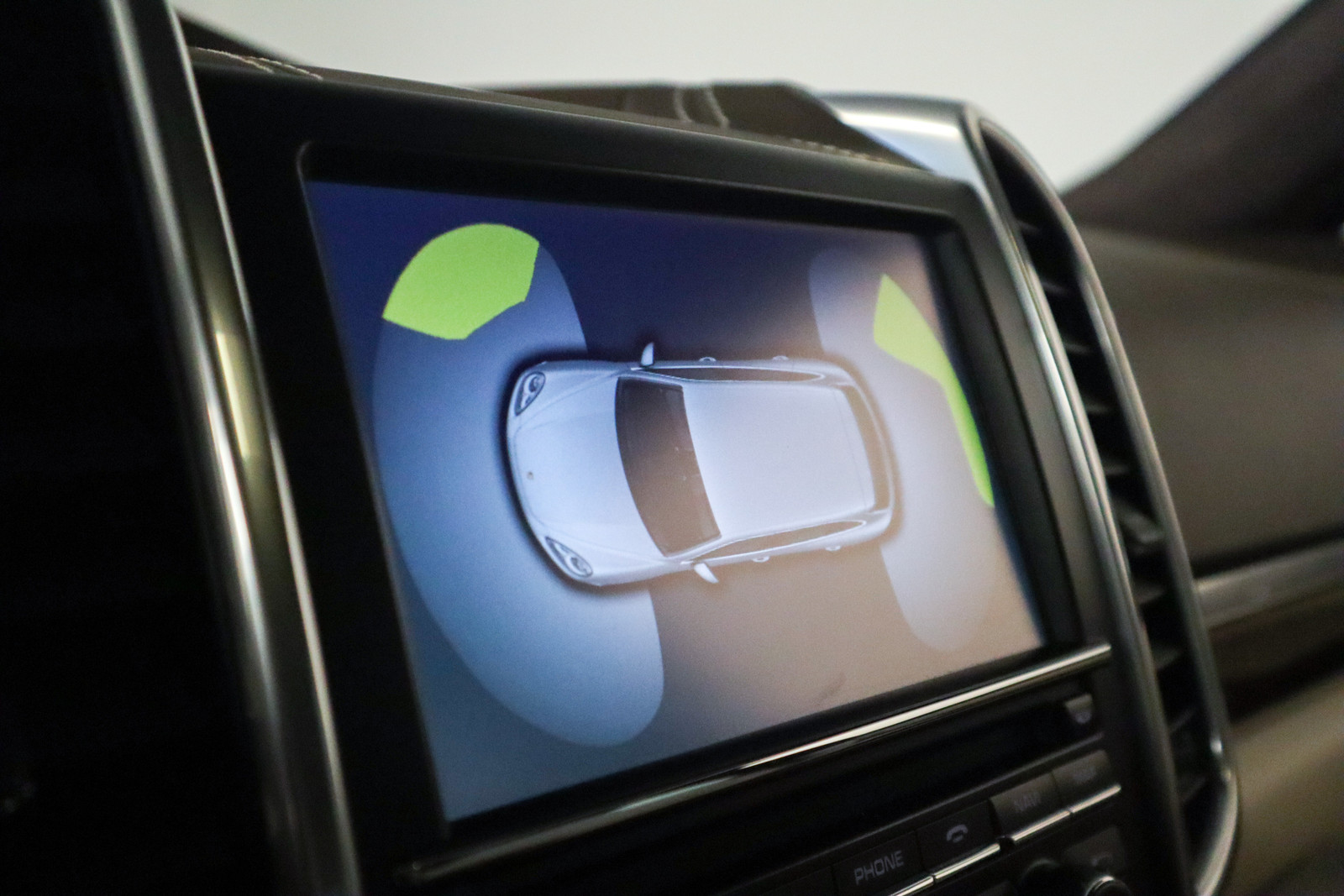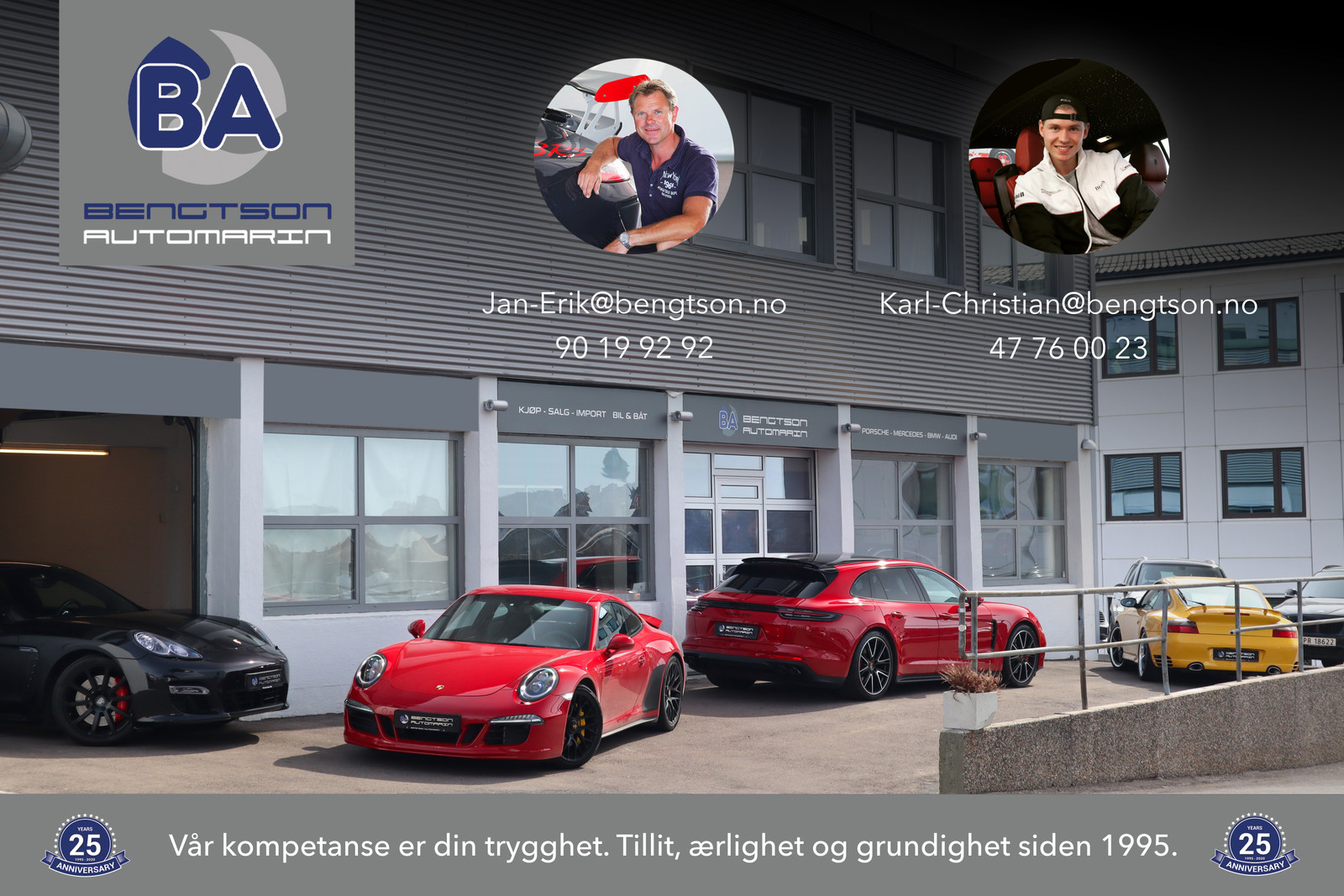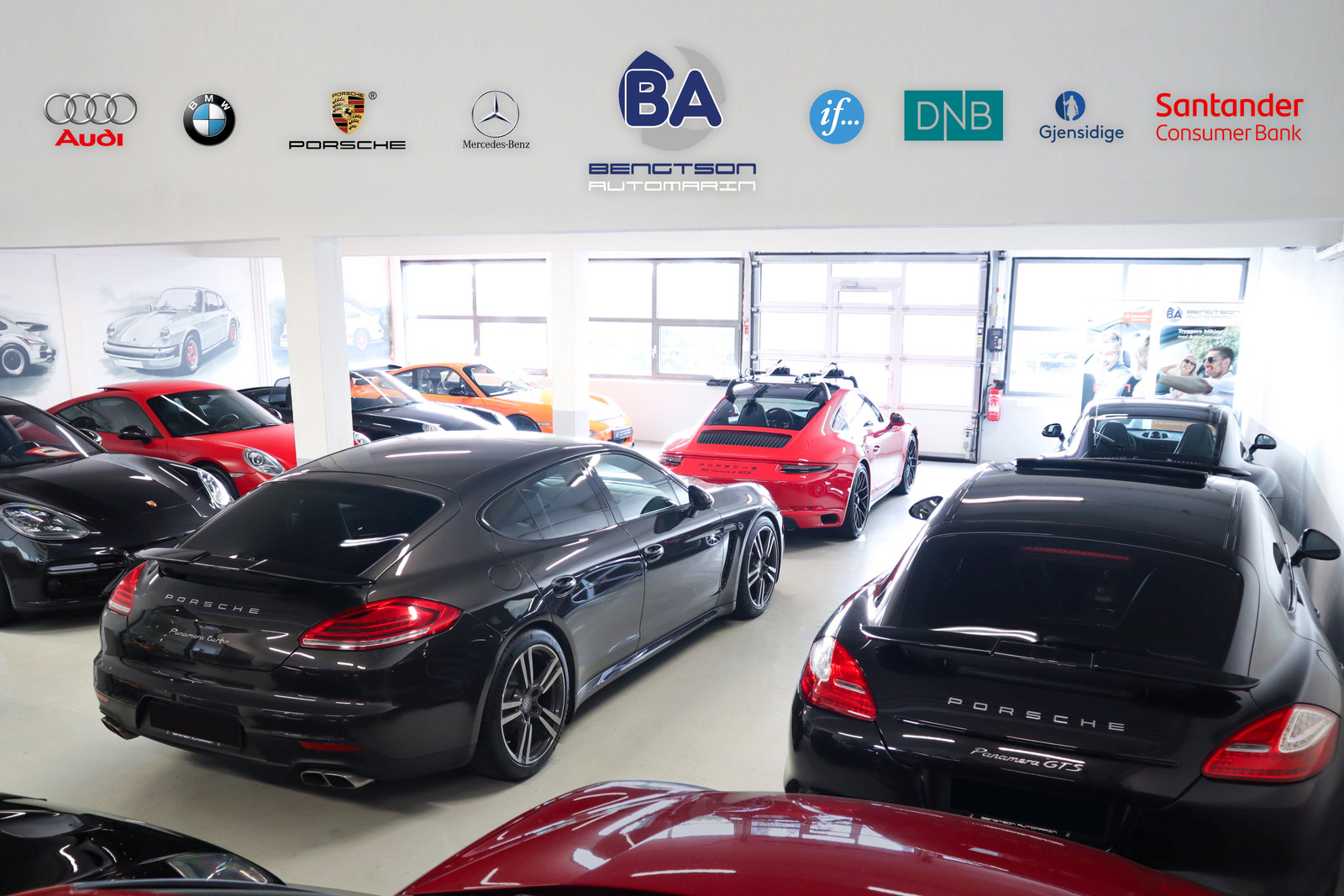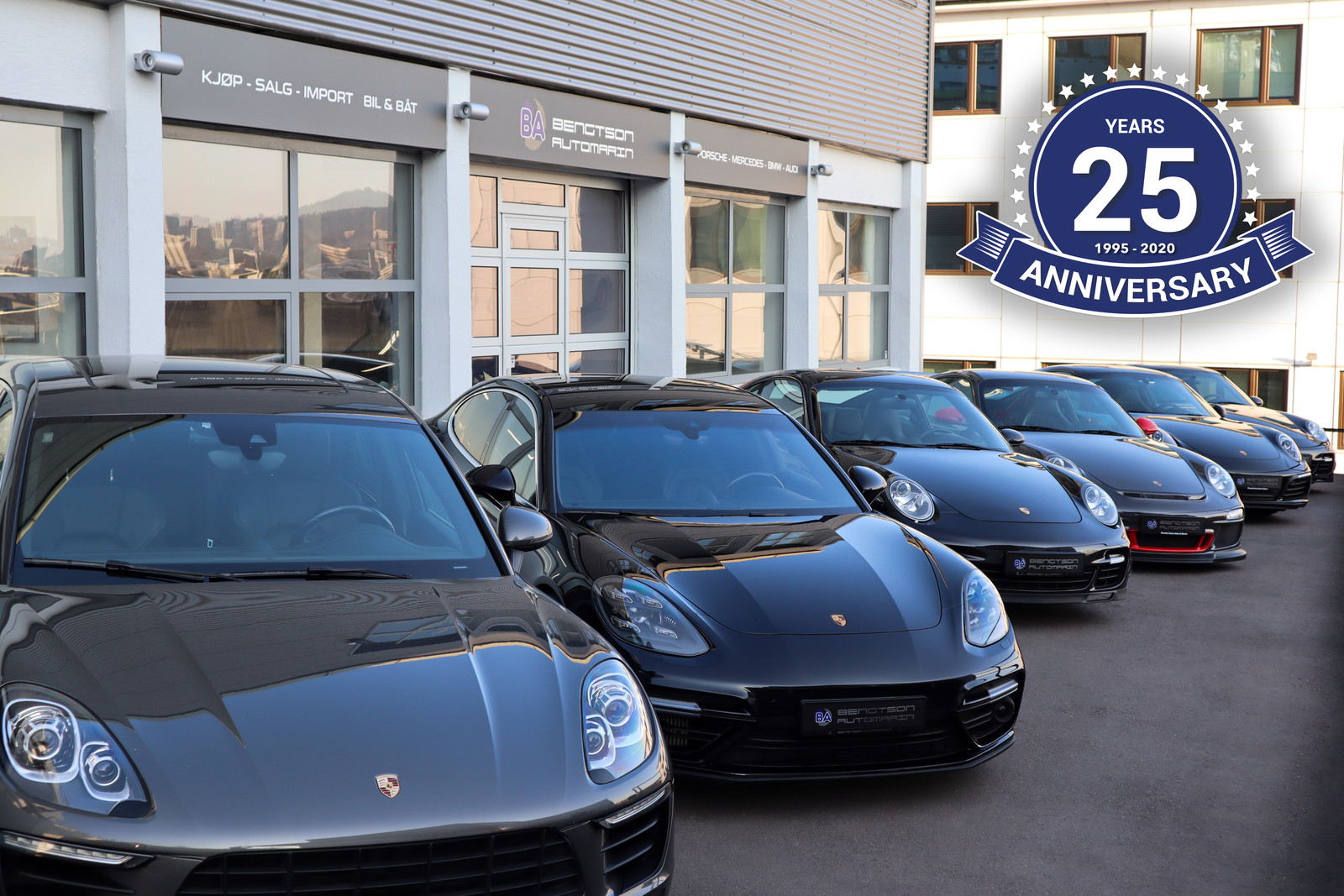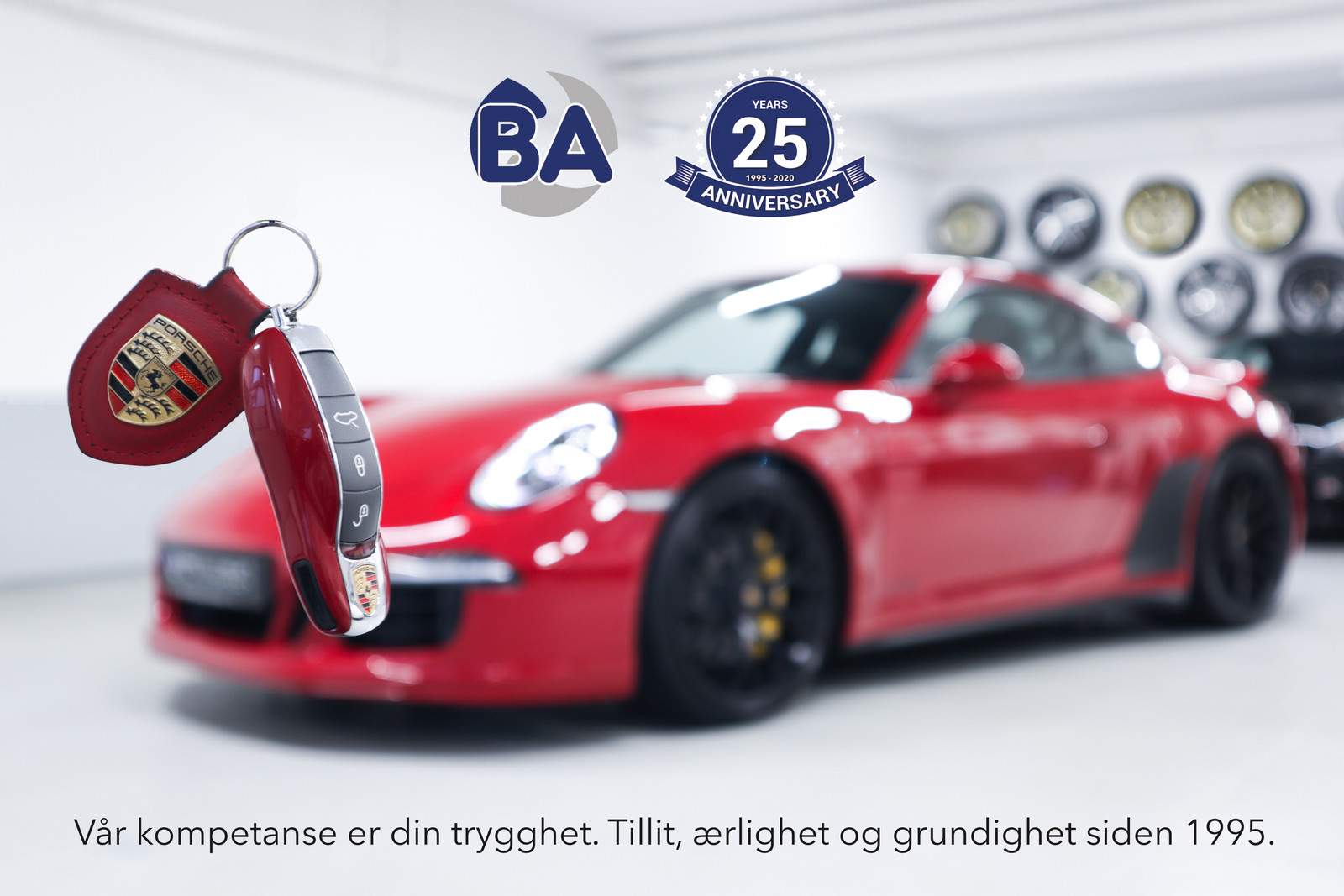 Porsche Cayenne
Porsche Cayenne DIESEL 3.0 V6 239HK PASM BOSE 14-VEIS LUFT SOLTAK PCM 2011, 156 000 km, kr 349 000,-
Full pris: 349 000,-
Utstyr
Diesel-partikkelfilter
Navigasjonssystem
Skinninteriør
Sommerdekk
Vinterdekk
Beskrivelse
Kjære kunde, vi ber vennlig om at du leser hele annonsen.  
• Visning av bil kun etter avtale - send melding via Finn.no 
• Vi svarer ikke på forespørsler som ikke innehar fullt navn, telefonnummer og e-post. 
• Ønsker du innbytte? Vennligst inkluder registreringsnummer, kilometerstand og servicehistorikk. 
• Vi ordner kontrakt, eierskifte, lånedokumenter og forsikring digitalt med e-signering og Bank ID. 
Vi har fått inn en fin 2011-modell Porsche Cayenne Diesel med en smakfull fargekombinasjon. Umber metallic utvendig kombinert med lyst og brunt skinn. 
Fullstappet med blant annet 100-liters tank - 14-veis stoler med memory - Multifunksjonsratt i valnøtt med varme - Soltak - Varme i frontrute - Varmeisolerende og laminert glass - Alcantara taktrekk - PCM med naviasjon, BT handsfree og streaming - Elektrisk bakluke - ParkAssist foran og bak - BOSE Surround Sound System - Lane Change Assist - Fire soners klimakontroll ++ 
Se fullstendig utstyrliste lengre ned i annonsen med utstyrskoder for korrekt informasjon
Bilen står i våre lokaler og er klar for levering eller prøvekjøring. Vi tar innbytte og ordner konkurransedyktig finansiering på dagen fra alle de store bankene, i tillegg til forsikring. Spør oss om et uforpliktende tilbud og les mer i bunnen av annonsen om finansiering, forsikring, innbytte og alt vi tilbyr. Vår kompetanse er din trygghet. Tillit, ærlighet og grundighet siden 1995. Se mer på vår nettside: www.bengtson.no . 
Fullstendig utstyrsliste  
• 0M1 F 100 litres fuel tank  
• 1BK F Air suspension with self-levelling and height adjustment incl. Porsche Active Suspension Management (PASM)  
• 1N3 F Servotronic  
• 1NP F Wheel hub cover with full-colour Porsche Crest  
• 1XJ F Walnut three-spoke multi-function steering wheel incl. steering-wheel heating  
• 2JX F Stainless steel front and rear apron  
• 3FE F Electric slide/tilt glass sunroof  
• 3J7 F Porsche crest on headrests  
• 3S1 F Roof rails incl. roof mouldings: matt aluminium look finish  
• 4A4 F Heated seats front and rear  
• 4E7 F Powerliftgate  
• 4GG F Heated windscreen icw heat-isulating glass  
• 6NN F Rooflining in Alcantara  
• 7K3 F Tyre-pressure monitoring system (TMS)  
• 7M1 F Door entry guards in stainless steel incl. model designation  
• 7T1 F Porsche Communication Management (PCM) incl. navigation module  
• 7X2 F ParkAssist at front and rear  
• 7Y1 F Lane Change Assist (LCA)  
• 8JE F XENON ECE RIGHT-HAND TRAFFIC STAT. DYN. AFS  
• 9AH F 4-zone climate control  
• 9VL F BOSE® Surround Sound System  
• 9W1 F Telephone module  
• HQ4 F All-Season tyres for 20-inch one-piece alloy wheels  
• N7D F Soft ruffled leather seats (smooth leather)  
• PA2 F Automatically dimming exterior and interior mirrors  
• PE5 F Comfort-memory package (14-ways)  
• PH4 F Walnut interior package  
• PP6 F Light comfort package icw comfort memory package or driver memory package  
• QR1 F Compass display at instrument panel  
• UF1 F Universal audio interface  
• VW5 F Heat- insulating laminated glass  
• 0AB S ANTI-ROLL BAR, FRONT AND REAR  
• 0E1 S SHORT WHEELBASE  
• 0F5 S DIESEL FUEL SYSTEM - CR  
• 0JZ F WITHOUT WEIGHT CLASS SPECIFICATION FA  
• 0K0 S W/O ALTERNATIVE DRIVE SYSTEM  
• 0KA S WITHOUT STICKERS OR EMBLEMS  
• 0NB G LOGO SET IN BASIC VERSION  
• 0P0 G EXHAUST TAILPIPE STANDARD  
• 0SB C STICKERS/PLATES IN GERMAN  
• 0TA G W/O FLOOR MATS  
• 0VC C ON-BOARD LITERATURE IN GERMAN (DOMESTIC)  
• 0Y1 G STANDARD CLIMATIC ZONES  
• 0YZ F WITHOUT WEIGHT CLASS SPECIFICATION RA  
• 1AT S EL. STABILIS. PROGRAMME W/O HBB  
• 1D7 V TRAILER HITCH PREPARATION ROW  
• 1E0 S W/O CARBON CANISTER  
• 1EX C SPECIAL ID PLATE FOR EC  
• 1G8 G TIRE FIT (FLAT-TYRE SET)  
• 1KZ G 18" REAR DISC BRAKES, BLACK  
• 1L0 G NORMAL AIR CLEANER  
• 1LN G 18" FRONT DISC BRAKES, BLACK  
• 1PC S WHEEL BOLTS W. ANTI-THEFT PROTECTION  
• 1SA G W/O LOWER ENGINE GUARD  
• 1T3 C FIRST AID KIT, WARNING TRIANGLE  
• 1Y0 S W/O FRONT/REAR DIFFERENTIAL LOCK  
• 1Z6 C STANDARD INITIAL FUEL FILLING 18 L  
• 2C4 F STEERING COLUMN, AX., VERT. ADJUST.+MEMORY  
• 2D0 G W/O AEROKIT (W/O TRIM CD VALUE)  
• 2G0 S W/O INSERT F. DIESEL - FUELLING  
• 2P2 S LOADING SILL GUARD STAINLESS STEEL  
• 2WA S WITHOUT ADDITIONAL TYRES  
• 2X2 S TIPTRONIC OPERATION ON STEER. WHEEL  
• 3B4 C ISOFIX CHILD SEAT ANCHOR SYSTEM  
• 3CA G W/O BULKHEAD  
• 3D6 F CENTRE CONSOLE IN 2-COLOUR LEATHER  
• 3GA G W/O CARGO MANAGEMENT  
• 3LT F DOOR/SIDE TRIM PANEL, IN TWO-COL. LEATHER  
• 3M0 G WITHOUT SPECIAL MEASURES (M1)  
• 3ME S TUFTING VELOUR CARPET, SCUFF PLATE  
• 3NW S REAR BENCH/BACKREST, SPLIT, FOLDING  
• 3PN F EL. SEAT ADJ. AT FRONT, BOTH W. MEMORY  
• 3QT G 3-P. AUTOM. BELT FR., BELT. TENS., H.A., ROW  
• 3W8 S ACOUSTIC PACKAGE DIESEL  
• 3X0 G W/O SKI BAG (WITH LOAD-THROUGH PROV.)  
• 3Y0 G WITHOUT SUN BLIND  
• 3ZU G 3-P. AUTOM. BELT RE. W. BELT TENS. ROW  
• 4D0 G W/O SEAT VENTILATION / MASSAGE SEATS  
• 4H3 S CHILD LOCK, MANUAL  
• 4K3 G CENTR. LOCK. W. RC, INNER. REL., SAFE LOCK. SYS.  
• 4L6 F AUTOMATIC ANTI-DAZZLE INTERIOR MIRROR  
• 4N3 F DASHBOARD IN 2-COLOUR LEATHER  
• 4UE G DRIVER/PASS. AIRBAG (CAN BE DEACTIV.)  
• 4W0 S W/O SET BAG F. CD/CASS. STORAGE  
• 4X3 G FRONT SIDE AIRBAG W. HEAD AIRBAG  
• 5D1 C CARRIER FREQUENCY 433.92 MHZ  
• 5K7 V COMPLETE FILM COVER. W/O TRANSPORT W.  
• 5MG F Walnut interior package  
• 5RQ C DOOR MIRROR, RIGHT, CONVEX  
• 5SL G LEFT DOOR MIRROR, ASPHERICAL  
• 5XH S SUN VISORS, ILL. MIRROR, DUAL-FUNCT.  
• 6A0 G W/O FIRE EXTINGUISHER  
• 6EA G W/O UNDERBODY PROTECTION  
• 6GA G W/O ADD-ON SET  
• 6KA S AIR GRILLE STANDARD  
• 6P1 C REAR NUMBER PLATE BRACKET (ECE)  
• 6Q8 F SELECT. LEVER IN DARK WOOD (BURR WALN.)  
• 6W1 C FRONT NUMB. PLATE BRACKET (LARGE)  
• ECE 6XT F DOOR MIRR.,MEM.,ANTI-DAZ.,HEATED, FULLY EL.  
• 6Y2 C COMFORT AIR PRESSURE, HIGH SPEED  
• 7A0 G W/O CD AUTOCHANGER/PLAYER  
• 7AC G ALARM SYS., INTERIOR SURVEILL. ALARM HORN  
• 7B6 F 12-VOLT PLUG SOCKETS (6)  
• 7E0 F W/O HEAT ACCUMULATOR  
• 7G0 V W/O VTS PREPARATION  
• 7KI S VEHICLE DIFFERENTIATION 9I0 (E2)  
• 7L8 C START/STOP "DEFAULT ON" W. RECOUP.  
• 7MG C EMISSIONS CONCEPT EU 5  
• 7RT F NAVIGATION SOFTWARE "EUROPE PACKAGE"  
• 7V0 S INSTRUMENT DIALS IN BLACK  
• 8DV F PCM 3 - BASIC MODULE ROW (INCL. RADIO)  
• 8F2 G SIDE DIRECTION INDICATORS  
• 8K8 G DAY. DRIV. LIGHT, DR. LIGHT ASS., ROW  
• 8L6 F DIVERSITY - ANTENNA  
• 8Q3 F HEADLIGHT BEAM ADJUSTM., AUTOM. DYNAM.  
• 8SA G TAIL/BRAKE/DIR. IND./REV. LIGHTS, NORMAL  
• 8T1 G CRUISE CONTROL  
• 8WB S FOG LIGHTS  
• 8X1 F HEADLIGHT CLEANING SYSTEM  
• 8Z5 C ENGINE COOLING VERSION 1  
• 9G1 S GENERATOR, 220 A (CYE)  
• 9JB G SMOKER VERSION, ASHTRAYS FRONT/REAR  
• 9M5 F FUEL PREHEATER (FOR DIESEL)  
• 9MB F COMFORT INTERIOR LIGHTING (DIMMABLE)  
• 9NX G WITHOUT ELECTRONIC LOGBOOK  
• 9P3 G VIS.+ACOUS. BELT CHECK (DRIV./PASS.)  
• 9Q1 S MULTI-FUNCTION DISPLAY/ON-BOARD COMP.  
• 9T1 S HEATED WINDSCREEN WASHER NOZZLES  
• 9TF F ENTRY/EXIT COMFORT LIGHTING  
• 9WC G W/O MULTIMEDIA IN VEHICLE REAR  
• A8B G BASIC EQUIPMENT  
• A91 G COUNTRY SALES PROGRAMME ROW  
• B01 C TYPE TEST. COUNTRY: GERMANY  
• B0A G COMPONENT SET W/O COUNTRY-SPEC. CONSTR. REG.  
• C00 C GENERAL CERTIFICATION FIRST REGISTRATION  
• D50 B 6-CYL. DIESEL ENG. 3.0/176 KW TDI CR  
• E0A G NO CAMPAIGN VERSION  
• F0A S NO SPECIAL VEHICLE, STANDARD VERSION  
• FC0 G W/O INDIVIDUAL INSTALLATION  
• FE0 S W/O COUNTRY CODE  
• FZ0 G SEAT BELTS IN BLACK  
• G1G B 8-speed Tiptronic S inclusive Auto Start Stop function  
• GY1 F CLOSING AID FOR REAR LID  
• J0B G AGM BATTERY 520 A (92 AH)  
• K4H S CLOSED BODY STRUCTURE  
• KE0 G W/O ANTI-THEFT PROTECTION F. ENGINE CONTROL UNIT  
• L0L C LEFT HAND DRIVE  
• NG0 S W/O BASIC CARRIER  
• Q2J F Comfort-memory package (14 ways)  
• QA0 S W/O CHILD SEAT (INTEGRATED)  
• QE0 S W/O STORAGE COMP. PACKAGE / BOX  
• QG1 C MAINTENANCE INTERVAL EXTENSION  
• QH0 G W/O VOICE CONTROL QJ2 G ALUMINIUM PACKAGE  
• QV0 G W/O TV/SAT RECEPTION  
• S3E G PORSCHE STANDARD VEHICLE  
• SM4 C FUEL MARKET A  
• T41 S COMP. BASIC ENGINE 059.D (6-CYL. TDI)  
• U5A G INSTR. INSERT, KM/H DISPLAY, ROW  
• V0A G TYRES WITHOUT MAKE SPECIFICATION  
• VC0 G W/O GARAGE DOOR OPENER  
• VR0 G W/O IMPACT PROTECTION MEASURES (BASIC) 
 
Kontakt oss 
Karl-Christian Larsen 
Tel: 47 76 00 23 
E-post: Karl-Christian@bengtson.no  
Jan-Erik Bengtson 
Tel: 90 19 92 92 
E-Post: Jan-Erik@bengtson.no 
Bengtson Automarin  
Vi hjelper deg med å finne din drømmebil. Helt siden 1995 har vi levert flere tusen biler til det norske folket i vårt langstrakte land. Med lang og god erfaring innen kjøp, salg og import av bil kan du gjøre et sikkert bilkjøp fra oss i Bengtson Automarin. Vår kompetanse er din trygghet. Les mer på vår hjemmeside www.bengtson.no  
 
Registrering med AUTOREG  
Vi er godkjent som autoreg forhandler av Statens vegvesen, dette gjør at vi kan omregistrere og levere biler umiddelbart i butikken. Dette gjelder også kveld og helg.  
 
Finansiering  
Vi tilbyr svært gunstig og konkurransedyktig finansiering med inntil 100% finansiering (ingen egenkapital) og inntil 10 års nedbetalingstid fra blant annet Santander Consumer Bank, DnB, SpareBank 1 og AS Financiering. Som agent for Santander Consumer Bank og DnB kan vi formidle lån på vegne av banken, for deg vil det si at vi ordner alt med lånepapirer og søknad hos oss, og får svar på dagen. Ta kontakt med oss for et uforpliktende finansieringstilbud.  
 
Forsikring  
Vi har svært gode priser på forsikring fra Fremtind, If og Gjensidige til alle våre biler, ta kontakt med oss for et uforpliktende pristilbud. Vi ordner alt hos oss.  
 
Innbytte  
Vi kan i de aller fleste tilfeller ta din bil i innbytte når du kjøper bil hos oss. Da slipper du strevet med å selge bilen på egenhånd eller å ha to biler samtidig. Send oss en melding på finn eller en e-post med registreringsnummer, kilometerstand, farge utvendig, interiørfarge, litt informasjon om bilen og om den har noe spesielt utstyr. Da kan vi gi deg best pris. Vi kan også selge bilen for deg og da får du avtalt sum på konto med en gang bilen er solgt.  
 
Garanti  
Vi tilbyr forskjellige garantier på våre biler, ta kontakt for nærmere informasjon angående bilen du ser på. Stort sett er det bruktbilgaranti eller resterende nybilgaranti, men vi tilbyr også utvidet garanti fra Autoconcept som dekker plutselige og uforutsette skader på de elektriske og mekaniske komponentene. Les mer på deres hjemmeside www.autoconcept.no om de ulike garantiene de tilbyr.  
 
Levering, henting og transport  
Vi kan levere alle våre biler over hele Norge, ta kontakt med oss for et pristilbud. Nærmeste togstasjon er Nyland Stasjon (Oslo), men vi kan også hente i Lillestrøm. Kommer du med fly henter vi deg gjerne på Gardermoen.  
 
Ekstrautstyr  
Gjennom våre samarbeidspartnere monterer vi DAB+, tilhengerfeste, takboks, takstativ og motor-kupevarmer/webasto. I tillegg til dekk, felg, foliering, solfilm og lakkforsegling. Spør om tilbud.  
 
Bengtson Automarin tar forbehold om feil/mangler og skrivefeil i alle våre annonser. Fullstendig salgsinformasjon og opplysninger iht. opplysningsplikt kan du få direkte fra oss. NB: Omregistreringsavgift kommer i tillegg til totalprisen som er synlig i annonsen om ikke annet er avtalt. 
FINN-kode: 235403726
Referanse: 2019